North Korea says workers were tricked into defecting
Pyongyang's state media yesterday said a group of 13 North Koreans working at a restaurant China had been tricked into defecting by South Korean spies.
The 13 — a male manager and 12 female employees of a Pyongyang-run restaurant — arrived in Seoul last week, South Korean Ministry of Unification said.
Ministry spokesman Jeong Joon-hee said they had been under pressure to meet their quota for hard currency remittances to Pyongyang and had become disillusioned with the North's propaganda after being exposed to foreign media.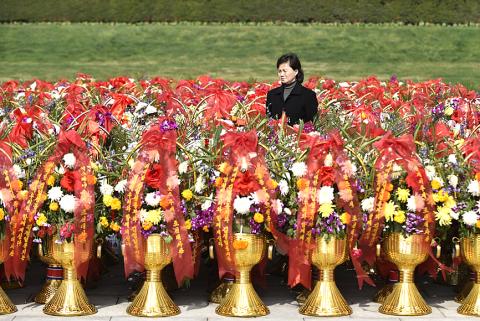 A woman stands in the middle of flower offerings for former leaders Kim Il-sung and Kim Jong-il at Mansu Hill in Pyongyang yesterday.
Photo: EPA
The South Korean government estimates Pyongyang rakes in about US$10 million every year from about 130 restaurants it operates — with mostly North Korean staff — in 12 countries, including China.
North Korea's propaganda Web site Uriminzokkiri said that the manager, who it said was bribed by South Korean spies, had tricked the 12 others into thinking they were going to a new workplace.
"The manager, in connivance with [South Korean] spies, tricked the employees into believing that they were moving to a different workplace in a far-off place" before putting them on a plane, it said in a commentary.
It said the "abduction" was part of the South's "heinous" anti-Pyongyang smear campaign.
South Korean daily Hankyoreh Sinmun quoted the Chinese owner of the restaurant in Ningbo, in China's Zhejiang Province, as saying the manager had stolen more than 1.2 million yuan (US$185,000) from the restaurant, which had a total of 20 North Korean employees.
The seven remaining North Koreans were staying with North Korean embassy officials and were expected to return home, the owner was quoted as telling the paper.
The 13 defectors were still incommunicado, being questioned by South Korean authorities.
The North's Red Cross spokesman on Tuesday said the 13 were kidnapped by the South and demanded it apologize and return them immediately or face "unimaginable consequences and strong countermeasures."
Comments will be moderated. Keep comments relevant to the article. Remarks containing abusive and obscene language, personal attacks of any kind or promotion will be removed and the user banned. Final decision will be at the discretion of the Taipei Times.