PRC couple lose same-sex marriage case
A judge yesterday ruled against a gay couple in China's first same-sex marriage case that attracted several hundred cheering supporters to the courthouse and was seen as a landmark moment for the nation's emerging lesbian, gay, bisexual and transgender (LGBT) rights movement.
The court in the central city of Changsha dismissed the suit brought against the local civil affairs bureau for refusing to issue the couple a marriage registration certificate.
The couple's lawyer, Shi Fulong (石伏龍), said he expected the judge would rule against them, but not so soon — within just a few hours.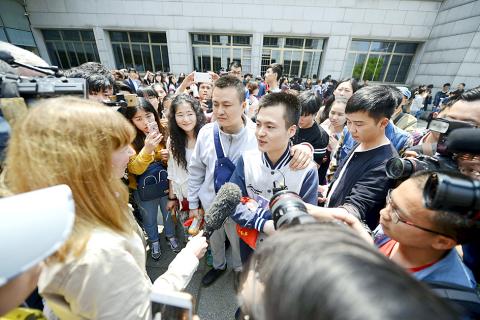 Sun Wenlin, center right, and his partner, Hu Mingliang, talk to journalists after losing their trial over their right to marry in Changsha, China, yesterday.
Photo: Reuters
"It goes against the spirit of the laws of the People's Republic of China," Shi said.
Plaintiff Sun Wenlin (孫文麟) said he would appeal until he exhausts all legal options.
The lawsuit comes amid growing awareness of LGBT issues in China, where society and the government have generally frowned on nontraditional expressions of gender and sexuality.
China does not legally recognize same-sex marriage and officials with the central government have said they do not see the law changing soon.
Sun, his partner Hu Mingliang (胡明亮) and Shi entered Changsha's Furong District courthouse yesterday morning amid cheers from about 300 supporters, some of whom had waited outside since 5am or traveled overnight from neighboring provinces.
Court officials allowed in about 100 spectators and then pleaded with fervent college students that the courtroom was full and that they had to turn others away.
Sun said the police had earlier visited him at the apartment he shares with Hu to try to talk him out of pursuing the lawsuit, but left after he reiterated his determination to press forward with the case.
"I hope I can pave the way as far and wide as possible, so that people who want to do the same will see how much we have tried and what possibilities there can be," Sun, 26, said the night before the hearing.
While homosexuality is not illegal in China, the nation's LGBT movement is still in its infancy and it is rare for same-sex couples to live openly.
Comments will be moderated. Keep comments relevant to the article. Remarks containing abusive and obscene language, personal attacks of any kind or promotion will be removed and the user banned. Final decision will be at the discretion of the Taipei Times.