Indian officials quiz company on overpass fall
Indian police are investigating possible murder charges against 10 construction company employees who have been either arrested or detained in connection with the collapse of an unfinished overpass in Kolkata that killed at least 24 people, officials said yesterday.
Rescuers continued clearing rubble from the scene of Thursday's accident. About 67 people have been pulled out alive, but rescuers doubted more survivors would be found.
"There is no possibility of finding any person alive," Indian National Disaster Response Force deputy inspector general S.S. Guleria said on Friday.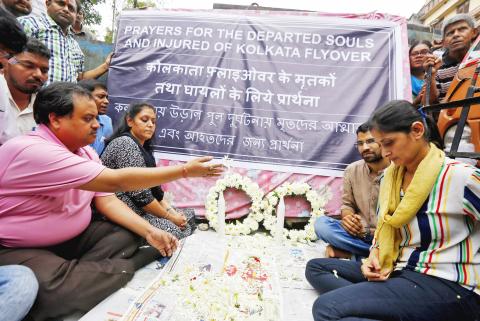 People on Friday hold a memorial service at the site of a collapsed flyover in Kolkata, India.
Photo: Reuters
Three arrested employees of Hyderabad-based IVRCL Infrastructure Co were yesterday to appear in court where arguments for formal charges would be heard, a police officer said on condition of anonymity, as he was not authorized to talk to reporters.
Seven other employees have been detained, according to the Press Trust of India news agency.
Police also sealed the company's Kolkata office.
The employees are being questioned over possible charges of murder and culpable homicide, crimes that are punishable by death or life imprisonment, and criminal breach of trust, which carries a prison sentence of up to seven years, police said.
IVRCL Infrastructure was contracted in 2007 to build the overpass, a project expected to take two years. However, construction was far behind schedule.
The overpass had spanned nearly the width of the street and was designed to ease traffic through the densely crowded Bara Bazaar neighborhood. The structure fell within hours of concrete being poured into a framework of steel girders on Thursday.
"We completed nearly 70 percent of the construction work without any mishap," IVRCL official K.P. Rao said on Thursday.
He was not among those detained on Friday.
"We have to go into the details to find out whether the collapse was due to any technical or quality issue," he said.
Two West Bengal state engineers overseeing the construction of the overpass were suspended from jobs pending an inquiry into the disaster, a state government statement said.
Indian Prime Minister Narendra Modi, who was in Washington at the time of the collapse, said he was "shocked and saddened," according to a message on his Twitter account.
Comments will be moderated. Keep comments relevant to the article. Remarks containing abusive and obscene language, personal attacks of any kind or promotion will be removed and the user banned. Final decision will be at the discretion of the Taipei Times.