South Korea returns remains of war dead
South Korea yesterday sent the remains of dozens of Chinese soldiers killed during the 1950-1953 Korean War back to China for a final burial in their homeland.
Coffins carrying the remains of 36 soldiers — excavated by South Korea's Ministry of Defense from March to November last year — were flown from the Incheon International Airport to the northeastern city of Shenyang, where China has a state cemetery for its war dead.
In a separate ceremony on Monday, the remains, including bone fragments and skulls, had been placed in the coffins at a temporary mortuary in Paju, near the border with North Korea.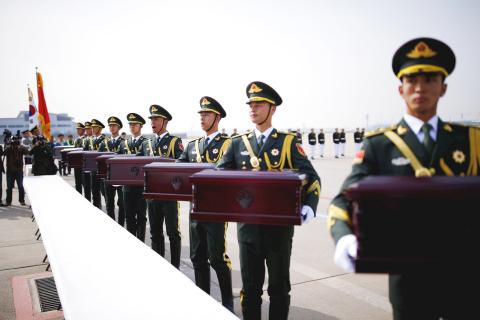 Chinese honor guards yesterday carry caskets containing the remains of Chinese soldiers during a handing-over ceremony of the remains at the Incheon International Airport in Incheon, South Korea.
Photo: Reuters
In 2013, South Korean President Park Geun-hye offered to return the bodies of the Chinese war dead as a goodwill gesture during a visit to Beijing.
Since then, Seoul has repatriated a total of 505 sets of remains, flying them back every year ahead of the annual tomb-sweeping festival, when many people visit and clean the graves of their ancestors.
This year's festival falls on Monday.
China fought alongside North Korea in the 1950-1953 conflict — its dramatic and crucial intervention coming after US-led forces had pushed the North Korean army into the far north of the peninsula.
Casualty figures remain disputed, but Western estimates commonly cite a figure of 400,000 Chinese deaths, while Chinese sources mention a toll of about 180,000.
The bodies were initially buried in small plots around the country.
In 1996, Seoul designated a special cemetery plot in Paju, just south of the heavily fortified border with North Korea, where all the remains of Chinese and North Korean soldiers still on South Korean soil could be buried together.
More than 700 North Korean soldiers are interred at Paju, but Pyongyang has ignored Seoul's offer to return them.
The site also holds the bodies of more than two dozen North Korean commandos killed in a 1968 attack on the presidential palace in Seoul.
A North Korean agent responsible for the 1987 bombing of a South Korean airliner that killed 115 people, who committed suicide after he was captured, is also there.
Comments will be moderated. Keep comments relevant to the article. Remarks containing abusive and obscene language, personal attacks of any kind or promotion will be removed and the user banned. Final decision will be at the discretion of the Taipei Times.