Winds cut power to thousands in western Europe
HOLIDAY WEEKEND: Air travel was severely disrupted in England, with more than 100 flights canceled, delayed or diverted at Heathrow and Gatwick airports over Easter
Winds gusting to hurricane force on Monday wreaked havoc in parts of western Europe, leaving tens of thousands of homes without power, forcing flight cancellations and the closure of roads and bridges.
In France, at least 60,000 homes were without power at one point, more than half of them in the western provinces of Brittany and Normandy, which later dropped to about 15,000 outages by late afternoon, electricity grid operator EDF said.
The strongest gusts were recorded on the Breton tourist island of Belle-Ile, where the wind reached 150kph.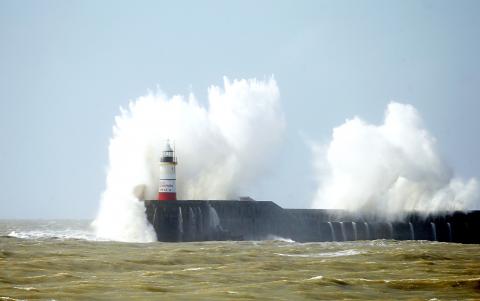 Waves crash against the lighthouse in Newhaven, England, on Monday.
Photo: AP
In Britain, the same weather system — dubbed "Storm Katie" — left a trail of disruption in its wake as it swept across southern England overnight, leaving debris and roadwork barriers strewn across London's streets.
Police in Surrey were searching for a missing person after his kayak capsized in the River Wey.
Winds gusting to 170kph forced the cancelation of about 150 flights in and out of Britain and cut power to more than 100,000 homes, with about 60,000 still without electricity by late afternoon, local utilities reported.
Heathrow Airport, one of the world's busiest airports, reported about 130 cancellations, with other flights delayed or diverted to other airports on the busy Easter holiday weekend.
About 20 flights in and out of London's Gatwick Airport were canceled and another four diverted.
Some airline passengers took to Twitter to describe their experience, with Michele Grant saying that she was grateful to have landed at London Stansted Airport after "terrifying and fruitless attempts to land at Gatwick."
A bridge crossing the River Thames in southeast England and the Severn Bridge, which connects England and Wales, were also closed, according to Highways England.
"It is particularly southern parts of England bearing the brunt of Storm Katie, but also into parts of East Anglia as well, with these potentially damaging and disruptive gusts of wind of 60 to 70mph [97kph to 113kph] — but possibly more in the most exposed areas," BBC weather forecaster Nick Miller said.
In the Netherlands, winds gusting to 113kph threatened to rip the roof off a complex of 28 apartments that had to be evacuated, public TV operator NOS reported.
Easter holiday events were canceled due to the bad weather, and fallen trees damaged cars and forced a brief closing of an expressway.
High winds in Belgium also knocked down trees and led environment officials to close public parks in Brussels, which they said could reopen yesterday after inspections and cleaning up the debris.
Comments will be moderated. Keep comments relevant to the article. Remarks containing abusive and obscene language, personal attacks of any kind or promotion will be removed and the user banned. Final decision will be at the discretion of the Taipei Times.