Pentagon to ask to boost Iraq deployment
HELPING HAND: The chairman of the Joint Chiefs of Staff said the plan was to increase 'support for the Iraqi security forces' as they battle the Islamic State group
The Pentagon is to submit proposals to US President Barack Obama to bolster military support for Iraqi forces in the near future, a top US military official said on Friday.
"We have a series of recommendations that we will discuss with the president in the coming weeks to further enable our support for the Iraqi security forces," Chairman of the Joint Chiefs of Staff General Joseph Dunford said.
US Secretary of Defense Ashton Carter "and I both believe that there will be an increase in US forces in Iraq in coming weeks, but that decision hasn't been made," Dunford said on Friday at a news conference at the Pentagon.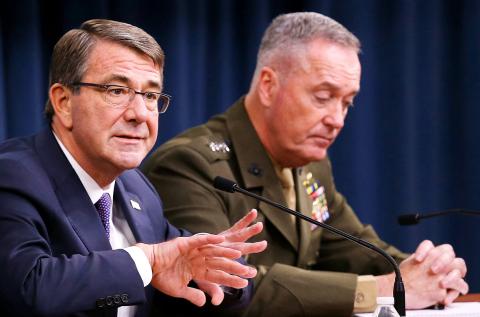 US Secretary of Defense Ashton Carter, left, and Chairman of the Joint Chiefs of Staff General Joseph Dunford speak at a news conference at the Pentagon in Arlington, Virginia, on Friday.
Photo: AFP
The recommendations are to include ways that the US can "enable" Iraqi forces in their efforts to recapture the city of Mosul, the largest urban center in the Islamic State group's "caliphate," an operation that is expected to be long and difficult.
Pentagon officials have previously mentioned their desire to accelerate the training of Iraqi troops or to provide logistical support for the Mosul offensive.
The US military this week confirmed the presence of artillery units and about 200 marines in northern Iraq, with the artillery used to support Iraqi troops as they advanced in the region.
"There is no inconsistency between what this artillery unit did and what our aviation is doing every single day" in its bombing campaign against the Islamic State, he said.
Officially, there are 3,870 US troops deployed in Iraq, but the actual number is likely about 5,000, according to media reports that Dunford did not deny on Friday.
Boosting the US' military presence in Iraq is a sensitive issue for the Obama administration, which has vowed not to deploy ground forces there.
Shiite militias in Iraq also oppose additional US deployments to their country.
Dunford and Carter, who was also at the briefing, warned that the battle against the Islamic State would play out outside Iraq and Syria as well.
Efforts to prevent attacks such as those carried out in Brussels will not succeed "unless all the countries that are affected by the foreign fighters are cooperating at the law enforcement, the intelligence community level and the military level," Dunford said.
Carter added that these were "critical" components in the fight against the militant group, especially in European countries.
The US has repeatedly called on European nations to improve shortcomings in their intelligence sharing and police cooperation, with criticism only heightened in the wake of the Belgium attacks this week.
Comments will be moderated. Keep comments relevant to the article. Remarks containing abusive and obscene language, personal attacks of any kind or promotion will be removed and the user banned. Final decision will be at the discretion of the Taipei Times.