Matt Damon to headline Chinese movie ambitions
China has a new ally in its campaign to turn itself into a global cultural superpower: Matt Damon. And, behind him, a good chunk of Hollywood as well.
Chinese leaders have long sought international cultural influence, aka "soft power," commensurate with the nation's economic might. That has brought official Confucian institutes scattered across the world, billions of dollars in development aid and awe-inspiring Olympic ceremonies. However, China's film industry remains a mere flicker on the global screen.
Which is where Damon comes in. Early next year, the star of The Martian is to headline The Great Wall, a historical epic filmed in China with Chinese and US stars, famous Chinese director Zhang Yimou (張藝謀), a cast and crew of about 1,300, a US$150 million budget and some nasty monsters, not to mention the support of the Chinese government.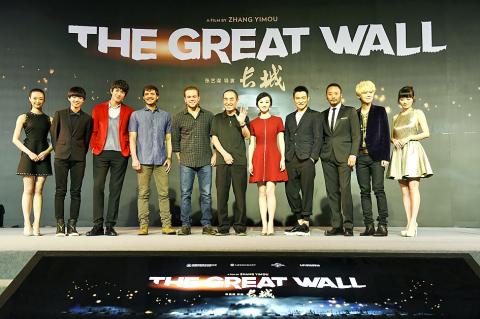 Director Zhang Yimou, center, and actor Matt Damon, fifth from left, pose with cast members at a news conference for the film The Great Wall in Beijing.
Photo: AP
If all goes according to plan, the film could be China's first international blockbuster — one that might presage a wave of similar films intended to present a new face of China to the world.
That is a lot to expect from a decidedly unusual action flick. In The Great Wall, Damon plays a wandering European mercenary in the pre-gunpowder era who stumbles across the titular structure and learns what it is really for. Hint: Those monsters might be involved.
However, film-industry types on both sides of the Pacific believe this kind of joint venture could open huge new opportunities for all sides. For Hollywood, it is about expanding markets and investment; for the Chinese government and private companies alike, it is about harnessing US stars and storytelling to help movies based on Chinese history, myths and cultural icons break out onto a global stage.
Chinese authorities "have not made any secret of their desire to spread and to encourage and to develop soft power," said Rance Pow, president of Artisan Gateway, a Shanghai-based research firm that tracks the Chinese box office.
Regaling the world with made-in-China blockbusters is one way to do so, he said.
Hollywood naturally welcomes Chinese investment to help fuel its voracious movie-making machine. One Chinese company — conglomerate Dalian Wanda Group — snapped up an entire Hollywood studio, Legendary Entertainment, for US$3.5 billion. Legendary just happens to be the studio behind The Great Wall.
Working with Chinese partners also offers a shortcut past rules that limit the distribution of foreign movies in China's booming film market. That could open up a vast new territory to US studios — at least so long as they play by China's rules.
Of course, plenty could still go wrong. There is no guarantee that either The Great Wall or another half-dozen or so would-be Chinese blockbusters will wow either Chinese or global audiences. Some previous efforts along these lines have been global flops.
This time, both Chinese and US movie executives think they have got the formula right. The most successful attempt so far is Kung Fu Panda 3, which has pulled in US$314 million, including an outsized US$149 million in China. Unlike its predecessors, the third movie in the series was produced by a joint venture between the series' original studio, DreamWorks Animation and Chinese investors, including state-backed China Media Capital.
The biggest draw for Tinseltown is China's huge and expanding film market. Cinema attendance in the US and Canada has been flat for a decade, but Chinese moviegoers are on a tear, snapping up tickets worth US$6.8 billion last year, up nearly 50 percent from a year earlier. At that pace, China could eclipse the US as the world's largest film market as early as next year.
However, tapping that market has been a challenge. Chinese regulators allow no more than 34 foreign films to screen in China every year — far fewer than filmmakers release in the US every month — and impose multiple "blackout" periods during which none at all can be shown.
Regulators vary the length of the blackouts so that Chinese-made films eke out a majority of the market every year, Pow said.
However, films like Kung Fu Panda 3 and The Great Wall get ushered to the front of the line. Because of their Chinese backers, the films qualify for prime release dates. Their backers also get to keep a bigger share of the box office than they ordinarily would.
So Hollywood has eagerly welcomed Chinese partners. From 2000 to last year, Chinese direct investment in US entertainment firms amounted to US$4 billion, according to Rhodium Group. That pace then skyrocketed in January with Wanda's purchase of Legendary, which almost doubled that total by itself.
Comments will be moderated. Keep comments relevant to the article. Remarks containing abusive and obscene language, personal attacks of any kind or promotion will be removed and the user banned. Final decision will be at the discretion of the Taipei Times.