North hacking to set up cyberattacks: S Korea
OFFICIALS' PHONES: South Korean intelligence officials said the hacking seemed to be in preparation for major cyberattacks on the South's banking system and railways
South Korea yesterday accused North Korea of hacking the smartphones of government officials, and unveiled new sanctions on Pyongyang over its recent nuclear test and long-range rocket launch.
The National Intelligence Service (NIS) — the South's spy agency — said the North had stolen telephone numbers and texts from the phones of dozens of key officials between late last month and early this month.
North Korean hackers also sent phishing e-mails to employees of two provincial railway operators in an attempt to steal passwords that could have allowed a cyberattack on rail traffic control systems, the agency said in a statement.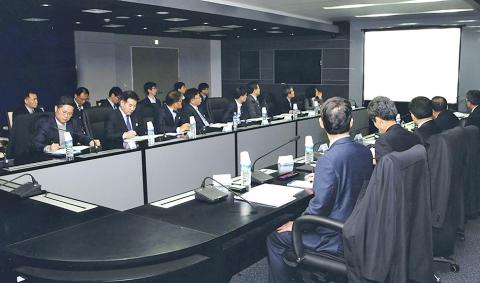 A handout picture released by the South Korean National Intelligence Service shows representatives of 14 government agencies holding an emergency meeting at the spy agency's building in Seoul yesterday.
Photo: EPA
"North Korea has been mounting a series of attacks against our cyberspace" following its nuclear test on Jan. 6, the statement said, adding that they appeared to have been preparation for a major cyberassault on South Korea's banking network.
"If left unchecked, it would have resulted in major financial chaos, such as paralysis of Internet banking systems and unwanted transfers of deposits," it said.
Seoul has blamed North Korean hackers for a series of past cyberattacks on military institutions, banks, government agencies, TV broadcasters and media Web sites, as well as a nuclear power plant.
The US also said the North was behind a damaging cyberattack on Sony's Hollywood film unit over its controversial North Korea-themed satirical film The Interview in 2014.
The NIS revelations came as Seoul unveiled a series of fresh unilateral sanctions against Pyongyang and asked citizens to boycott North Korean restaurants abroad.
The new measures blacklisted scores of North Korean individuals and entities and banned any vessels previously docked in North Korean ports from South Korean waters.
South Korea said it would independently impose new sanctions against 40 individuals and 30 entities.
The sanctioned individuals include a Singaporean and a Taiwanese national.
They follow tough sanctions adopted by the UN Security Council last week and — though largely symbolic, given the lack of North-South economic ties — are likely to prompt an angry response from Pyongyang.
"Since North Korean facilities, such as overseas restaurants, are one of North Korea's channels for foreign currency, we ask the public to refrain from using these facilities," said Lee Suk-joon, head of the Office for Government Policy Coordination.
The South Korean government estimates that Pyongyang rakes in about US$10 million every year from about 130 restaurants in 12 countries.
Lee said the government suspected most of the foreign currency was "ultimately being used for weapons of mass destruction."
The move to ban foreign vessels that have previously docked in the North would appear to spell the end of an ambitious trilateral infrastructure project aimed at transporting Russian coal to South Korean ports through the North's port city of Rajin and Russia's border town of Khasan.
The so-called Rajin-Khasan project was viewed as an integral part of South Korean President Park Geun-hye's vision of uniting the railways of South and North Korea to connect them to Europe.
Additional reporting by Reuters
Comments will be moderated. Keep comments relevant to the article. Remarks containing abusive and obscene language, personal attacks of any kind or promotion will be removed and the user banned. Final decision will be at the discretion of the Taipei Times.