Shkreli lawyer says Congress Tweet was 'unfortunate'
Former Turing pharmaceuticals AG chief executive Martin Shkreli's lawyer, Benjamin Brafman, said that a tweet his client posted after a congressional hearing on Thursday calling legislators "imbeciles" was "unfortunate."
Shkreli posted the tweet on Thursday, after a US House Committee on Oversight and Government Reform hearing where lawmakers attempted to get him to answer questions about a decision by his former company to dramatically raise the price of a life-saving anti-infective, Daraprim.
Shkreli, who is facing unrelated federal charges, repeatedly invoked his Fifth Amendment right not to incriminate himself in between eye rolls and grins.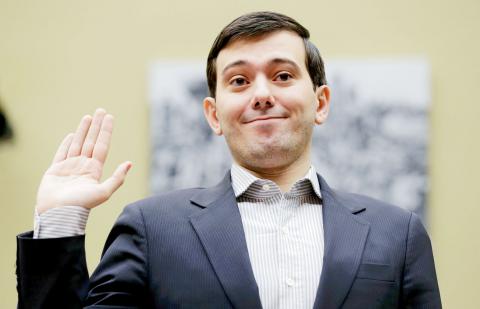 Former Turing Pharmaceuticals chief executive Martin Shkreli is sworn in to testify at a US House Oversight and Government Reform hearing on Capitol Hill in Washington on Thursday.
Photo: Reuters
When Shkreli left the hearing, "the frustration exploded," Brafman said in an interview on CNBC, and Shkreli tweeted: "Hard to accept that these imbeciles represent the people in our government."
"It was a regrettable choice of words," Brafman said.
Brafman on Wednesday said that Shkreli would no longer give media interviews, but that has not stopped the former drug executive from taking to Twitter and other channels to make his feelings known.
Shkreli has maintained his innocence regarding the federal securities fraud charges against him, which are related to several hedge funds and a separate drug company he used to run, Retrophin Inc. After Retrophin, Shkreli founded Turing Pharmaceuticals, which under his leadership increased the price of Daraprim more than 50-fold to US$750 a pill. Shkreli left Turing after the federal charges were unveiled.
"Martin Shkreli is a very interesting person," Brafman said. "He's very smart, he's self-schooled, he's intensely bright. I think he understood that today was not about learning the facts about Daraprim. The only purpose of forcing him to show up is to do what they did and he resented it."
Shkreli later held a public chat online, as he often does.
"Congress is welcome to chat with me about drug prices, right now. No sworn oath here," he said in a tweet linking to the chat.
He voiced his frustration that lawmakers would not let Turing chief commercial officer Nancy Retzlaff answer questions, and said that the congressional hearing "is just about an advertisement for them."
"It's pathetic that they need me for publicity," he said. "The last thing they'd want is for me to testify because it would be embarrassing to them."
He was still chatting online by early evening, talking about his desire to develop drugs that could save lives, bantering with people and responding to online critics.
"You cannot troll the greatest troll who ever lived," he said.
Comments will be moderated. Keep comments relevant to the article. Remarks containing abusive and obscene language, personal attacks of any kind or promotion will be removed and the user banned. Final decision will be at the discretion of the Taipei Times.