Olivier Rousteing putting swagger back on catwalk
French fashion is back to its swashbuckling best and the designer leading the charge is a young mixed-race man determined to give post-attacks Paris a new swagger.
"I want to make all men feel like princes again," Olivier Rousteing said on Saturday after his dashing, unashamedly masculine show for Balmain.
Not since the days of the Charge of the Light Brigade has there been such an onrush of braid, breeches and boots. Rousteing's models were not the pallid sexless automatons of so many shows.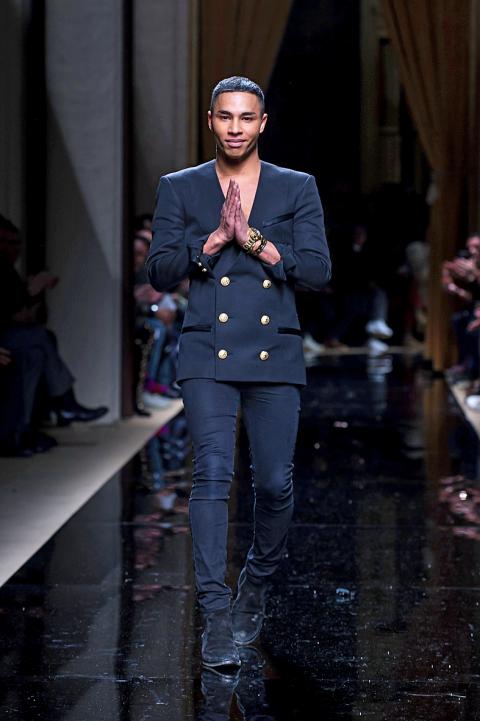 French fashion designer Olivier Rousteing acknowledges applause at the end of a fashion show in Paris on Saturday.
Photo: AP
Instead, they were dashing hussars and Cossack officers you half expected would pull cavalry swords from their gorgeous scarlet and leather cummerbunds as they thundered through a Parisian mansion.
Half of them looked like they had come straight from the ball the night before Waterloo in their silk and velvet breeches, with big brass-buttoned greatcoats thrown on their shoulders, and fur and tassels flying.
"Paris is the City of Light and those lights should continue to shine," said the 30-year-old designer — a favorite of pop divas Beyonce and Rihanna.
Rousteing, who was adopted when he was one year old, said his show was an ode to the racial and cultural diversity of the French capital.
A symphony orchestra, playing live to a hip-hop soundtrack, provided the musical tone.
"Mixing Kanye West and Rihanna with a symphony orchestra is my universe. I am French in a French fashion house with a couture tradition, which also has a very international influence," he said.
An Internet darling, with 2.1 million Instagram followers, Rousteing has become a reference for stars as diverse as Jane Fonda and Nicki Minaj, who even rapped on the venerable couture brand's name as sales have soared.
Rousteing's high-cheekboned good looks, social media savvy and friendships with stars such as West and his wife, Kim Kardashian, has led to him being called a "selfie-made man" — a joke he appears to delight in.
Earlier in the day there was a similar defiance against giving in to fear after the terrorist attacks in November last year from Dior's Kris van Assche.
Although much of his collection was in black, it was not the black of mourning, he said.
"In fact I like the idea of darkness pushing creativity," he said, echoing the sombre luxuriance of Dries van Noten stand-out line and fellow Belgian creator Walter van Beirendonck, whose show was simply called Woest, which means furious in Flemish.
Paris-based label Etudes — whose studio is near the Bataclan concert hall were 90 people died in the attacks — seemed almost to be on a war footing in their Saturday show, with a collection largely comprised of military-inspired and camouflage outfits, fighter pilot fatigues and parachute suits.
There was a similar ready-for-anything air in newcomers OAMC, whose nifty high-end functional streetwear is also created only a few blocks away and is replete with the spirit of Parisian resistance.
However, if you were looking for a sign that "Paris will always be Paris," look no further than the Hermes show on Saturday night. All the elements of ineffable casual French style were there, the discreet charm of the bourgeoisie personified.
Only that dried-blood red, a color that crops up across the collections like a wound, would lead you to believe that anything untoward had happened.
Comments will be moderated. Keep comments relevant to the article. Remarks containing abusive and obscene language, personal attacks of any kind or promotion will be removed and the user banned. Final decision will be at the discretion of the Taipei Times.