People demand jobs in Tunisia
PRESIDENTIAL PROPOSAL: An unemployed graduate said that people are not destroying, burning or causing chaos, but asking the government to provide more jobs
Unemployed young people from the Tunisian city that touched off nationwide protests say the government is failing them and protested anew on Saturday in a precarious calm enforced by a nationwide curfew.
Tunisia, the birthplace of the Arab Spring protest movement, is the only democracy to rise from those turbulent demonstrations five years ago, touched off by the suicide of a young man who despaired of making a living. The nation has a 15 percent unemployment rate, but among young people, one in three is jobless.
The government imposed a nationwide curfew on Friday night and has not said when it would be lifted.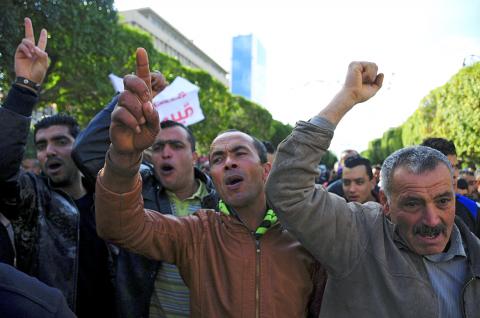 Unemployed people protest in Tunis on Saturday.
Photo: AP
The nationwide protests this week were triggered by the death of a young man in Kasserine, who was electrocuted when he climbed a transmission tower to protest losing out on a government job. The protests then spread to cities throughout the nation, including scattered demonstrations in the capital, Tunis, where a bank and some stores were looted.
On Saturday, a small crowd at a government building in Kasserine reasserted their demands, while in Tunis, the Tunisian Prime Minister Habib Essid said the situation was under control.
"We want to send a message to the president in my name and the name of everyone: We are demanding work. We are not destroying. We are not burning. We are not causing chaos, but just demanding jobs," said Maher Nasri, an unemployed graduate.
Tunisian President Beji Caid Essebsi addressed the nation on Friday evening, saying he understood the protesters' motivation, but blamed criminals for the violence. The Tunisian Ministry of the Interior said 261 people had been arrested, with a total of 423 since the unrest began.
Emerging from an emergency government meeting to address the unrest, Essid said the security situation was under control.
However, in Kasserine, protesters said the government needed to do far more to win their trust.
"We want solutions that can be implemented," Ahlam Gharsalli said. "We need urgent solutions because we are fed up with waiting."
Comments will be moderated. Keep comments relevant to the article. Remarks containing abusive and obscene language, personal attacks of any kind or promotion will be removed and the user banned. Final decision will be at the discretion of the Taipei Times.