Panel unlikely to be MH370's: experts
THAI FIND: A specialist team is to retrieve the panel today and take it to Bangkok for study, but experts said the location where it was found is inconsistent with drift models
A piece of suspected airplane wreckage found off the east coast of southern Thailand on Saturday was unlikely to belong to Malaysia Airlines Flight MH370, which vanished nearly two years ago, aviation experts and Thai officials said.
A large piece of curved metal washed ashore in Nakhon Si Thammarat Province, Pak Phanang District head Tanyapat Patthikongpan told reporters.
Villagers reported it to authorities for identification, he said.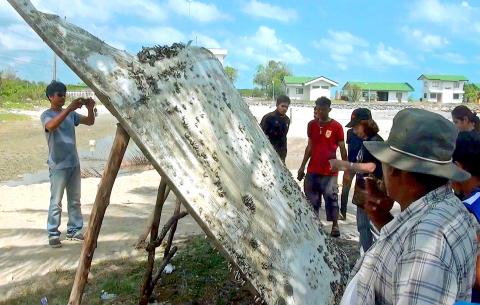 A picture made available yesterday shows villagers on Saturday inspecting a piece of suspected airplane wreckage at a beach in Pak Phanang District in Thailand's Nakhon Si Thammarat Province.
Photo: EPA
"Villagers found the wreckage, measuring about 2m wide and 3m long," he said.
The find fueled speculation in the Thai media that the debris could belong to MH370, which disappeared with 239 people on board during a flight from Kuala Lumpur to Beijing in March 2014. A piece of the airplane washed up on the French island of Reunion in July last year, but no further trace has been found.
Thailand's air force yesterday said that a specialist team would retrieve the panel today and bring it back to Bangkok for further study.
Thai army aviation experts have already inspected the debris and agreed it was likely to be from an aircraft, although more tests are needed for confirmation.
Thanyapat said the piece probably belonged "to an aircraft's nose because there are electronic wires, insulators on it," adding that numbers on the panel should help identification.
Experts said that while powerful currents sweeping the Indian Ocean could deposit debris thousands of kilometers away, wreckage was extremely unlikely to have drifted across the equator into the northern hemisphere.
The location of the debris in Thailand "would appear to be inconsistent with the drift models that appeared when MH370's flaperon was discovered in Reunion last July," said Greg Waldron, Asia managing editor at Flightglobal, an online aviation industry publication.
"The markings, engineering and tooling apparent in this debris strongly suggest that it is aerospace related," Waldron said. "It will need to be carefully examined, however, to determine it's exact origin."
Other possible sources of aerospace debris included the launching of space rockets by India eastward over the Bay of Bengal, he said.
However, there has been no official confirmation from Thailand that the wreckage even belongs to an airplane, much less the missing Malaysian jet.
"Personally, I don't think it's MH370," Thai government spokesman Sansern Kaewkamnerd told reporters.
Patthikongpan said the debris "could have been under the sea for no more than a year, judging from barnacles on it."
A spokesman for the Joint Agency Coordination Centre, the Canberra-based authority that is overseeing the international search for MH370, told reporters it was "awaiting results of the official examination of the material."
The Malaysian Ministry of Transport is in contact with Thai authorities to verify the debris, a ministry spokesman said.
Investigators believe someone might have deliberately switched off MH370's transponder before diverting it thousands of kilometers off course.
The fragment "just doesn't look like aircraft fuselage," aviation expert Geoffrey Thomas said from near Perth, Australia. "It just doesn't make any sense... I don't think there's any connection with MH370 whatsoever."
Comments will be moderated. Keep comments relevant to the article. Remarks containing abusive and obscene language, personal attacks of any kind or promotion will be removed and the user banned. Final decision will be at the discretion of the Taipei Times.