'Corrupt' Chinese officials seized US$960m: analysis
SELECTIVE CRACKDOWN: The analysis tallied only the fraction of suspects who were tried in open court. Officials from Xi's provincial power bases were targeted less often
Chinese officials convicted in Chinese President Xi Jinping's (習近平) sprawling anti-corruption drive have embezzled or misused nearly US$1 billion in public funds, a new report has found.
Official graft causes widespread public anger in China, and since taking over as the Chinese Communist Party's (CCP) leader in 2012, Xi has overseen a much-publicized campaign against the scourge.
However, critics say there is a lack of transparency around the drive and that it has been used to settle political scores.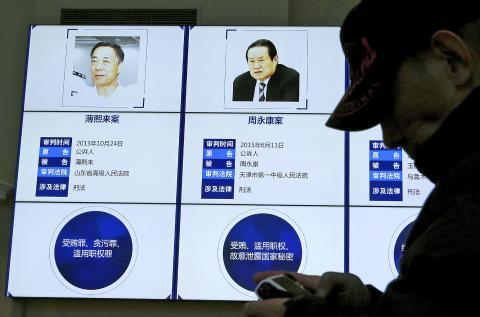 A visitor walks past an electronic screen displaying images of China's disgraced politicians Bo Xilai, left, and Zhou Yongkang and the corruption charges on which they have been convicted at the China Court Museum in Beijing on Tuesday last week.
Photo: AP
ChinaFile, a publication of the Asia Society in New York, has tallied nearly 1,500 publicly announced targets of the campaign, and has released a searchable database.
It shows that 231 officials have been convicted and sentenced in Chinese courts — only a fraction of those put under investigation by the CCP, which operates its own discipline system outside judicial supervision.
Chinese courts — which are controlled by the party and have a conviction rate of more than 99.9 percent — found that they embezzled or misused more than 6.3 billion yuan (US$960 million), according to the verdicts against them, the database shows.
The documents included details such as one official spending 200,000 yuan of public funds on jade jewelry, and another attempting to hide a stolen 30 million yuan in his mistress' gardening company.
Xi pledged to target both high-ranking "tigers" and low-level "flies" in his drive.
However, the database includes proportionately fewer fallen officials from Xi's provincial power bases of Fujian and Zhejiang, which ChinaFile said "are among those that appear to have been treated more leniently."
"If you're a Xi guy, you don't get purged; everybody else, it's open season," Hong Kong University of Science and Technology rofessor of Chinese politics David Zweig said yesterday. "When he was in those places, he was able to move people into positions of authority. People who are allied to him, therefore there's no need to use the crackdown to transfer out people."
Comments will be moderated. Keep comments relevant to the article. Remarks containing abusive and obscene language, personal attacks of any kind or promotion will be removed and the user banned. Final decision will be at the discretion of the Taipei Times.