Vietnam starts its political transition
SOCIALISM UPHELD: Communist Party of Vietnam General Secretary Nguyen Phu Trong said at the party congress opening that 'socialism is still suitable' to reality
Vietnam yesterday began a crucial political transition as the five-yearly Communist Party of Vietnam congress convened to pick new leaders, who will face challenges ranging from a maritime standoff with China to much needed economic reform.
In front of more than 1,500 party delegates, amid great pomp and ceremony, Vietnamese President Truong Tan Sang opened the meeting in Hanoi, which is to last for a week and take place largely behind closed doors.
The secretive party, which has ruled since war ended in 1975, is to reshuffle its top brass, with 10 out of 16 politburo members — including the party general secretary, president and prime minister — technically due to retire.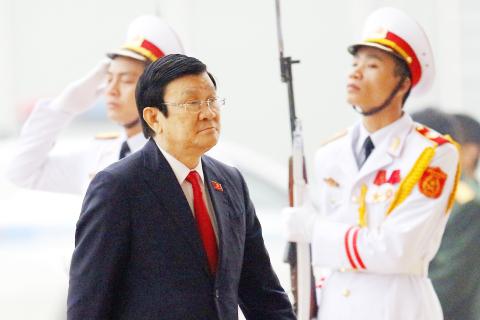 Vietnamese President Truong Tan Sang arrives for the opening ceremony of the Communist Party of Vietnam congress in Hanoi yesterday.
Photo: AP
The run-up to the congress has been marked by a public factional struggle between the party's traditional wing, which is seen as being closer to Beijing, and more modern reformers like Vietnamese Prime Minister Nguyen Tan Dung.
Dung, who presided over Vietnam joining the WTO and the Trans-Pacific Partnership (TPP) trade deal, had been tipped by analysts to move up to the powerful general secretary position, becoming party leader.
However, Vietnamese General Secretary Nguyen Phu Trong, seen as more a conservative apparatchik, has been maneuvering to extend his term in office and appears to have triumphed.
"The path of socialism is still suitable to the reality in Vietnam," Trong said as he opened the meeting.
One senior party official, speaking on condition of anonymity, said that while nothing was certain, the prime minister appeared to be on his way out.
"Nguyen Tan Dung's political career can be declared clinically dead," he told reporters.
Analysts say that would be bad news for modernizers, adding that while neither side would dramatically change course on any issue, Dung's faction is broadly the more competent, pro-market option.
"With Dung, the country will move much further and much more quickly," on issues such as market reforms, free-trade deals and security ties with the US, Vietnam expert Carl Thayer told reporters.
Dung is also seen as more outspoken on a maritime dispute with China, which this week moved an oil rig into waters claimed by Hanoi.
"China always keeps up the pressure on the Vietnamese leadership, especially before and during the party congress," said Duong Danh Dy, a retired Vietnamese diplomat who spent 14 years at the embassy in Beijing.
China previously moved the rig into contested waters in 2014, triggering protests and riots in Vietnam that left at least three people dead and prompting Hanoi to move closer to its former wartime foe the US.
The party congress is also to approve a five-year economic blueprint, which will seek to build on recent impressive economic growth of nearly 7 percent annually, a rate that is one of Asia's strongest. With a slew of foreign trade agreements, including the TPP ahead, experts and foreign investors are urging Vietnam's leadership to pursue long-stalled domestic reforms, including overhauling the banking sector and moving more aggressively on privatizing state-owned companies.
Comments will be moderated. Keep comments relevant to the article. Remarks containing abusive and obscene language, personal attacks of any kind or promotion will be removed and the user banned. Final decision will be at the discretion of the Taipei Times.