Baby creates stir in Spanish parliament
Spain's first parliamentary session on Wednesday saw a lot of new faces, but perhaps most surprising of all was the presence of a five-month-old boy brought to work by his mother, lawmaker Carolina Bescansa.
One of 69 lawmakers from the anti-austerity Podemos party, Bescansa walked into the lower house with her baby, taking her seat and holding him on her lap throughout the session, even carrying him with her as she got up to vote for the parliamentary speaker.
The footage unleashed an avalanche of jokes and debate on Twitter, in the media and among politicians, with some arguing that a baby is never better than in the arms of his mother while others wondered whether this was really the place for an infant.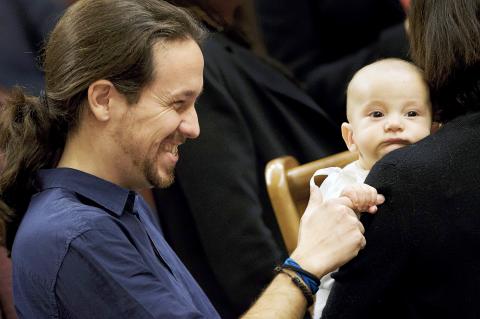 Podemos party leader Pablo Iglesias on Wednesday smiles as the baby son of Podemos legislator Carolina Bescansa grabs his finger in the Spanish parliament in Madrid.
Photo: AP
"This is going to be a short legislature. With the crying of Bescansa's baby no one will hear a thing," David Penalver said on Twitter.
Popular Party (PP) lawmaker Beatriz Escudero vented her indignation on Twitter.
"Every mother and father gets organized to go to work. Podemos thinks that it's above the institutions," she wrote, accusing Bescansa of using her baby to grab media attention.
Javier Maroto, also from the PP, said this was neither "feminism" nor "progressist."
"There is a nursery in parliament," he tweeted.
El Pais journalist Cecilia Jan said the move was a "necessary posture" in the daily newspaper.
"It helps to remind everyone, society and public authorities, that babies don't look after themselves," she wrote.
Bescansa herself told reporters she thought it was a sign of "normalization."
"In this country there are millions of mothers who unfortunately cannot raise their children as they would like, who cannot go to work with their children as if it was something normal," she said.
"And I think that the fact that coming to parliament with a breast-fed baby makes the news says a lot about this country. That means we need to give more visibility to this," she said.
Bescansa is not the first parliamentarian to make headlines for taking her baby to work.
In 2010, an Italian member of the European Parliament, Licia Ronzulli, also grabbed the spotlight when she showed up carrying her one-month-old baby in a sling in a show of support for "all those women who cannot reconcile serenely pregnancy and jobs."
Women's rights were at the heart of the electoral program of Podemos, which came third in last month's polls just, two years after emerging on the back of a devastating economic crisis.
One of its proposals was to implement free nurseries for al parents in Spain.
And as if to emphasize this point, Podemos leader Pablo Iglesias was seen tenderly cuddling Bescansa's baby in parliament on Wednesday.
Comments will be moderated. Keep comments relevant to the article. Remarks containing abusive and obscene language, personal attacks of any kind or promotion will be removed and the user banned. Final decision will be at the discretion of the Taipei Times.