China charges activists with subversion
FORMAL ARREST: A legal representative for Chinese human rights lawyer Wang Yu said that the activists' family received notices on Wednesday informing them of the charges
A well-known Chinese human rights lawyer and her husband, a trainee lawyer, have been arrested on charges of political subversion, her lawyer said on Wednesday.
The arrest of the couple followed the disclosure this week of formal charges for a number of legal workers who have challenged the grip of state power on citizens' lives.
The lawyer, Wang Yu (王宇), was formally arrested on suspicion of "subversion of state power," a charge usually applied against dissidents accused of organizing political challenges to Chinese Communist Party rule.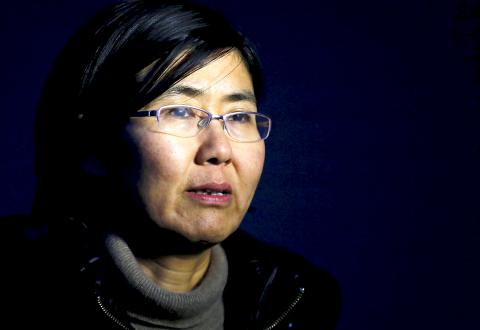 Lawyer Wang Yu talks during an interview in Beijing on March 1, 2014.
Photo: Reuters
Wang's husband, Bao Longjun (包龍軍), who worked with her, was charged with "inciting subversion of state power," a slightly lighter charge also used to imprison dissidents.
"Subversion of state power is serious," said Li Xianhan (李顯函), a lawyer representing Wang. "It could attract a life sentence."
Li said that she was told of the couple's formal arrest by their family members, who received notices by mail that arrived on Wednesday. The charges come approximately six months after the couple's detention.
Wang "most probably also knows that she has been charged; they would have shown her the arrest notice," Li added. "But I have not been able to see her, so I do not know for sure whether she has received the notice."
Before the latest arrest revelations, the families of four legal activists received notices this week that their relatives had been charged with subversion. Those charged included two lawyers and an intern lawyer who worked for the Fengrui law firm in Beijing — where Wang and Bao also worked.
The law firm has become a focus in the government's efforts to discredit rights lawyers as venal subversives abusing courts to create personal gain and "social chaos."
Li said that claims laid out in reports on Chinese state-run television of rabble-rousing court disruptions by Wang, even if proved to be true, were "not enough to constitute subversion."
The unusually heavy allegations of subversion illustrate the party leadership's determination to dismantle the loose movement of lawyers who have used litigation, online appeals and publicity to challenge arbitrary power, said Maya Wang, a researcher on China for Human Rights Watch in Hong Kong.
"The scale of this roundup is unprecedented in recent years," she said.
"This mass roundup of lawyers is meant to, through targeting lawyers affiliated with Fengrui law firm, strike fear at the community of human rights lawyers to significantly curtail their activism," she said. "The authorities are basically labeling this modus operandi of the rights movement as a form of subversion."
Wang Yu, 44, had defended Ilham Tohti, a professor accused of inciting separatism in his native Xinjiang who was sentenced last year to life in prison. She also represented Li Tingting (李婷婷), a women's rights advocate detained in March last year over a planned protest against sexual harassment on public transportation.
Wang Yu, Bao and other firmmembers were taken away by the police in July last year, swept up in a wave of detentions of nearly 250 lawyers, legal workers and activists.
According to account by Amnesty International, 23 people caught up in that crackdown remain in custody or unaccounted for.
A Swede, Peter Jesper Dahlin, who worked in Beijing supporting Chinese rights activists, was also detained earlier this month. On Wednesday, the Chinese Ministry of Foreign Affairs confirmed that Dahlin was being held and investigated "on suspicion of engaging in activities harmful to Chinese national security."
Wang Yu and Bao suffered additional upheaval late last year, when their teenage son, Bao Zhuoxuan (包卓軒), was captured in a border town in Myanmar. The son had been denied permission to attend school in Australia, and he slipped into Myanmar as part of a plan that was to take him to the US via Thailand.
He was brought back to China and is living under surveillance with Wang's mother in the Chinese region of Inner Mongolia.
Li said that she has been repeatedly rebuffed by the authorities when she sought to see Wang Yu, who is being held in Tianjin, where her husband is also in custody.
"It has been half a year since I last saw her," Li said. "I went seven times, but I could not see her."
Comments will be moderated. Keep comments relevant to the article. Remarks containing abusive and obscene language, personal attacks of any kind or promotion will be removed and the user banned. Final decision will be at the discretion of the Taipei Times.