With facepaint, flowers, fans mourn Bowie
GLOBAL FAREWELL: Fans gathered close to Bowie's birthplace in south London, outside his apartment in New York and in Berlin, where he recorded 'Heroes'
From his birthplace in London to his adopted home in New York, David Bowie fans around the world gathered on Monday to mourn a star who many said had shaped their lives.
A crowd of more than 2,000 people spent the evening to the colorful south London district of Brixton where he was born — some clutching beers, others wearing Bowie T-shirts — to lay flowers beneath a giant mural of his face.
"I don't think there is another musician in the world that can bring this crowd with so many generations at the same time," said Dan Hunt, 28, his voice wavering with emotion. "This is the sort of thing that happens only once in any of our lives. It would have been stupid to miss it."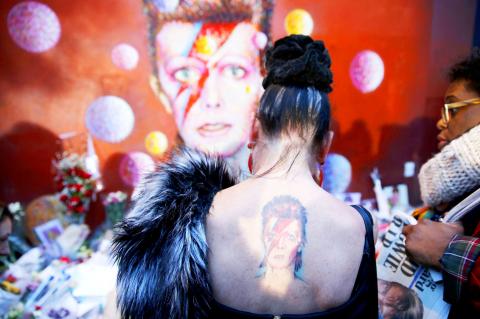 A woman with a Ziggy Stardust tattoo visits a mural of David Bowie in Brixton, south London, on Monday.
Photo: Reuters
Lines of Bowie's hit song Space Oddity rang through the chill winter air as fans played guitar and others sang along, several wearing the lightening bolt face makeup or shocking red mullet of Aladdin Sane, one of Bowie's many stage personas.
From a building nearby a speaker blasted Bowie's 1983 hit Let's Dance, while Brixton bars dedicated their playlists to the artist.
"RIP David, a starman gone to heaven, love his old friend," read one bouquet at the mural, a portrait of Bowie's 1973 Aladdin Sane incarnation.
In New York, mourners gathered in tears outside Bowie's building in the city's exclusive Soho neighborhood.
"I feel devastated," said Penelope Bagieu, a 33-year-old French cartoonist, crying as she left a bunch of flowers outside Bowie's former home.
Michelle Lynn, who stopped off on her way to work carrying photographs of the pop icon in her handbag, said she had been "a fan forever."
Others placed flowers and candles on Bowie's star on the Hollywood Walk of Fame in Los Angeles.
"Just freedom in your sexuality, your identity, everything pretty much," a tearful Danielle Houde said. "He helped me grow up to not give a shit about anything."
Berliners left pictures and candles outside the building where Bowie lived during the 1970s as he was trying to kick drink and drug addictions in Cold War-era West Berlin — one of his most creative periods.
The city's Hansa Studios, where Bowie recorded songs including the hit "Heroes," said it would hold a memorial for Bowie on Friday, possibly with a public party for city residents featuring live music.
"I think he would have liked that," organizer Thilo Schmied said.
Many spoke of Bowie as an artist who had an extraordinary impact on both their own lives and times.
"I share a birthday with him. He's so young. He was such an amazing person. He means my youth, the challenge to gender stereotypes," said Charlie Rice, a 66-year-old charity worker in London. "For gay people, he was a leading light to give us hope."
Bowie announced he was gay in an interview in 1972, but was married twice and remained coy about his sexuality in later life.
He had lived in Brixton until he was six years old with his waitress mother and his father, who worked for a children's charity.
"I discovered him when I was about 12 or 13, and we all think we're freaks at 12 or 13," said 35-year-old Claire Ronai, describing him as "a great inspiration."
"He helped us through that period. He meant a lot to me," she said.
As the Brixton crowd swelled, police blocked off a street as revelers climbed telephone booths and raised their glasses to the sky.
Nearby, the district's century-old Ritzy cinema had replaced the films displayed on its main hoarding with a single message: "David Bowie Our Brixton Boy RIP."
Comments will be moderated. Keep comments relevant to the article. Remarks containing abusive and obscene language, personal attacks of any kind or promotion will be removed and the user banned. Final decision will be at the discretion of the Taipei Times.