China's new coast guard ship to have heavy guns
MILITARIZED COAST GUARD: The ship, which outsizes some US naval vessels in the disputed South China Sea, is to carry 76mm rapid-fire guns and anti-aircraft guns
China has nearly finished a giant coast guard ship and would probably deploy it armed with machine guns and shells in the disputed South China Sea, the Global Times reported, dubbing the vessel "The Beast."
China Coast Guard (CCG) vessel 3901, with a 12,000 tonne displacement, will carry 76mm rapid-fire guns, two auxiliary guns and two anti-aircraft machine guns, the paper reported, citing unidentified people and photographs posted on the Internet.
It would be the second of China's mega-cutters — that are the largest in the world, according to the Global Times. A similar boat entered service last year in the East China Sea, where China is involved in a territorial dispute with Japan.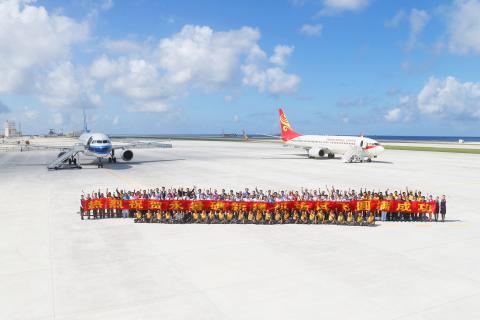 Chinese pose for a group photograph on Wednesday last week after landing at the airfield on the Spratly Islands (Nansha Islands) in the South China Sea during a test of its airstrip, in a picture released by Xinhua news agency.
Photo: AP
The vessels show the increasingly blurred lines between China's coast guard and its navy, and might complicate efforts by nations such as the US to prevent the territorial disputes in the South China Sea — one of the world's busiest shipping lanes — from sparking clashes at sea.
China is beefing up the weapons carried by its so-called white-hulled fleet, which previously involved ships armed at most with water canon and sirens, US Naval War College's China maritime studies institute researcher Ryan Martinson said. The ship now under construction is larger than some of the US naval vessels that patrol the area, and might pose a challenge for the US Pentagon on how to respond.
"US naval commanders now must prepare for the possibility of testy encounters with Chinese mega-cutters on the high seas in peacetime, when their advanced weapons systems would do them little good," Martinson wrote in a June report predicting the deployment of the new ship. "This is an uncomfortable prospect given that China's mega-cutters are larger than most US surface combatants."
The USS Lassen, which the US employed last year on a freedom of navigation operation to challenge China's claims to artificial islands it has built in the South China Sea, is an Arleigh Burke-class destroyer, which typically displace about 9,700 tonnes. Coast guard ships are not required to adhere to the Code for Unplanned Encounters at Sea agreed between the US and Chinese navies in April 2014.
US Chief of Naval Operations Admiral John Richardson has described China's use of its coast guard as a "gray area" that needs to be countered in a creative way that stops short of hostilities, according to a report in Navy Times. China's assertions to 80 percent of the South China Sea clash with five other nations including Taiwan.
The hull number gives a clue as to where the new ship is to be deployed, S Rajaratnam School of International Studies Singapore-based associate research fellow Swee Lean Collin Koh said.
Numbers starting with two are assigned to the East China Sea branch of the coast guard, and those starting with three tend to head to the South China Sea, he said,
The CCG 3901 has a helicopter platform and hangar in the stern capable of transporting heavy helicopters, the Global Times reported. It also dwarfs the two biggest vessels in the Japanese coast guard, which displace 6,500 tonnes and were until recently the world's largest coast guard ships, according to Martinson's report.
"In the type of missions China's coast guard is asked to perform, ship size is a key determinant of capability," Martinson wrote. "When there is a major size disparity, the larger ship can simply drive others away."
China's coast guard has also converted former naval frigates for civilian use and one of them patrolled within the 12 nautical mile (22.22km) exclusion zone that Japan claims around uninhabited islands in the East China Sea. Another armed guard ship entered Japanese waters on Friday last week, according to Japan's coast guard.
Comments will be moderated. Keep comments relevant to the article. Remarks containing abusive and obscene language, personal attacks of any kind or promotion will be removed and the user banned. Final decision will be at the discretion of the Taipei Times.