Cologne sex assaults stoke Germany refugee debate
'REPUGNANT': The German chancellor called the mayor of Cologne to express her outrage over the attacks, which reportedly occurred during New Year's Eve celebrations
German leaders expressed shock over dozens of apparently coordinated sexual assaults against women on New Year's Eve in the western city of Cologne blamed on "Arab-looking men," but warned against anti-refugee scapegoating.
German Chancellor Angela Merkel called for a thorough investigation of the "repugnant" attacks, ranging from groping to at least one reported rape, allegedly committed in a large crowd of revelers during new year festivities outside the city's main train station and its famed Gothic cathedral.
Merkel's spokesman Steffen Seibert said that she had called Cologne Mayor Henriette Reker to express her "outrage" over the violence, which she said required "a tough response from the state."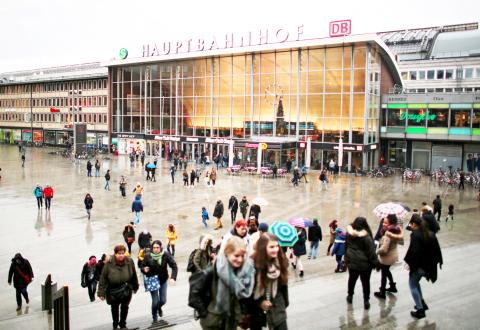 Pedestrians walk up a flight of stairs at the central railway station in Cologne, Germany, on Monday.
Photo: EPA
"Everything must be done to find as many of the perpetrators as possible as quickly as possible and bring them to justice, regardless of their origin or background," Seibert quoted Merkel as saying.
Police in Cologne said they had received 90 criminal complaints by Tuesday and quoted witnesses as saying that groups of 20 to 30 young men "who appeared to be of Arab or north African origin" had surrounded victims, assaulted them and in several cases robbed them.
Germany took in about 1 million asylum seekers last year, many of them fleeing war-ravaged Syria.
A plainclothes policewoman was reportedly among those attacked.
"We assume more people will come forward," Rhineland City Police Chief Wolfgang Albers told reporters.
Hamburg also reported about 10 similar attacks.
On Tuesday evening, 200 to 300 people, according to police estimates, gathered in front of Cologne cathedral calling for more respect for women.
One female demonstrator held a sign reading: "Mrs. Merkel, what are you doing? This is scary."
German Minister of the Interior Thomas de Maiziere lashed out at Cologne police for failing to stop the assaults.
"The police cannot work in this way," De Maiziere told public TV channel ARD.
Police said they evacuated the area because of fears people could be injured by fireworks — and admitted the assaults then began without them realizing what was happening.
"It is not acceptable that the square could be evacuated and then [the attacks] take place" in the same location, with officers "waiting for complaints" from victims before taking action, De Maiziere said. "I am urgently demanding clarification."
German Minister of Justice Heiko Maas said the assaults represented "a new dimension of crime that we will have to get to grips with," adding that they had appeared to be "coordinated."
Asked by a journalist whether refugees were behind the rampage, Maas said police were still working to identify the attackers.
"This is not about where someone is from, but what they did," he said. "Making an issue out of it, lumping it together with the refugee issue, is nothing, but exploitation. Now is the time to determine the facts and then decide on the necessary consequences."
Meanwhile, the right-wing populist Alternative for Germany party, which hopes to gain seats in three regional elections in March, seized on the attacks as "a result of unchecked immigration."
"Here we see the appalling consequences of catastrophic asylum and migration policies on Germany's everyday reality," party leader Frauke Petry said.
The Cologne daily Koelner Stadt-Anzeiger said many of the suspects were already known to police due to a rash of pickpocketing and muggings near the railway station.
Comments will be moderated. Keep comments relevant to the article. Remarks containing abusive and obscene language, personal attacks of any kind or promotion will be removed and the user banned. Final decision will be at the discretion of the Taipei Times.