Sweden sets up checkpoints at Danish border
For the first time in half a century, Sweden was demanding photo identification documents (ID) for all travelers from Denmark in a drastic move to stem an unprecedented influx of refugees.
Extra security were on hand to oversee the new border controls on the Danish side of the Oresund bridge-and-tunnel link, a major entry point for migrants and refugees hoping to start a new life in Sweden.
Marten Jegenstam, a 41-year-old consultant who lives in Denmark but works in Sweden, said that controls were needed.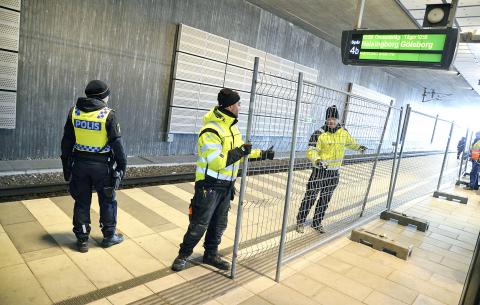 Police erect a temporary fence to ease border control and prevent illegal migrants from entering Sweden on a platform between the domestic and international tracks at Hyllie train station in Malmo, Sweden, on Sunday.
Photo: EPA
"I think we need some control [over our borders], but it needs to be very smooth, the commuting back and forth requires balance," he said.
Under the new rules, rail passengers are required to exit trains and clear checkpoints before boarding the trains again. Those without valid identification are to be refused entry.
Travelers had been warned to expect long lines and delays in the afternoon, when many commuters began returning to Sweden from their jobs in the Danish capital. The measures aim to keep out undocumented migrants and come after Sweden — which has taken in more asylum seekers per capita than any other European nation — said it could no longer cope with the unregulated flow of new arrivals.
A temporary fence has already been erected at Copenhagen Airport, Kastrup's station, where trains are to be stopped for mandatory controls.
"It's as if we are building a Berlin Wall here. We are going several steps back in time," said Michael Randropp, a spokesman for the local Kystbanen commuters' association.
The reintroduction of border controls means that travelers between the two Nordic countries are required to show photo ID for the first time in more than 50 years and deals yet another blow to Europe's cherished passport-free Schengen system.
Several other EU countries, including Germany, Austria and France, also reimposed border checks last year as the continent grappled with its biggest refugee crisis since World War II.
More than 1 million migrants reached Europe last year, most of whom were refugees fleeing war and violence in Syria, Afghanistan and Iraq, according to the UN High Commissioner for Refugees.
Sweden, a country of 9.8 million people known for its generous asylum policies, took in an estimated 160,000 asylum seekers last year alone.
However, the inflow has strained the country's capacity to take care of the newcomers and authorities recently warned they would no longer be able to provide housing for everyone. As the public mood shifted, the government began reversing its open-door policy.
Some temporary border controls were already reintroduced on Nov. 12 last year, after which the number of weekly arrivals dropped from a peak of 10,500 to about 3,500 by the middle of last month, according to the Swedish Migration Agency.
In a further attempt to regain control over the flood of people arriving via Denmark, the Swedish legislature last month passed a temporary law making transport companies responsible for ensuring that those arriving via the 8km Oresund crossing carry valid photo ID.
Anyone who fails to provide the necessary documents will be turned back, and travel operators who fail to comply risk a fine.
"I believe that these ID checks will be effective. More will have to seek asylum in other countries," Swedish Minister of Justice Morgan Johansson recently told the Swedish daily Dagens Nyheter.
Aside from the inconvenience the checks are expected to cause — especially for the about 8,600 daily commuters between Copenhagen and the southern Swedish city of Malmo — the new measures threaten to cause Danish travel operators financial difficulties.
Danish train company DSB has already threatened to levy a supplementary charge on passengers crossing the strait to cover the costs of the checks, and the Danish HH Ferries Group said it had reported Sweden to the EU for unfair competition after being required to pay for identity checks.
The company argues that the consortium operating the Oresund Bridge, which is partly owned by the Swedish government, was given special treatment, because it was not required to help fund the measures.
The border controls have also irked Danish authorities, who are waiting to see if they will end up with a buildup of migrants stuck at their border.
The migration crisis has been a major point of contention between the two neighbors, with Denmark's right-wing government actively discouraging migrants and refugees from settling in the country.
It took in about 18,000 asylum seekers last year.
Comments will be moderated. Keep comments relevant to the article. Remarks containing abusive and obscene language, personal attacks of any kind or promotion will be removed and the user banned. Final decision will be at the discretion of the Taipei Times.