HK's Leung says no sign that China involved in missing publishing staff
Hong Kong Chief Executive Leung Chun-ying (梁振英) yesterday said there was no indication so far outside agents were involved in the disappearance of five booksellers specializing in publications critical of China, but that it would be "unacceptable" if any were.
The disappearances have stoked fears of Chinese authorities using shadowy tactics that erode the "one country, two systems" formula under which the former British colony has been governed since its return to Chinese rule in 1997.
Lee Bo (李波), 65, a shareholder of Causeway Bay Books, "vanished" last week, according to a missing person report filed by Lee's wife on Thursday.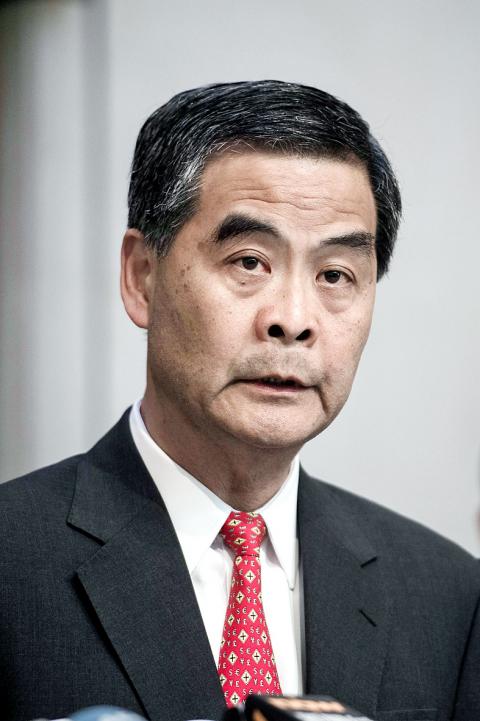 Hong Kong Chief Executive Leung Chun-ying answers questions during a news conference yesterday.
Photo: AFP
Four associates involved in publishing or selling literature critical of Beijing have also gone missing in mysterious circumstances over the past few months.
Hong Kong opposition lawmakers on Sunday protested outside Beijing's representative office over Lee's disappearance.
"We are highly concerned with this case," Leung said.
"If mainland [Chinese] law enforcement personnel enforce the law in Hong Kong, this is unacceptable because it breaches the Basic Law," Leung said, referring to the territory's mini-constitution, in rare comments defending Hong Kong's autonomy against over-reaching by Beijing.
The Basic Law guarantees wide-ranging personal freedoms, including broad freedom of speech, and independent law enforcement.
Pro-democracy activist and Labor Party Legislator Lee Cheuk-yan (李卓人) said that while Hong Kong officials had sought information from Chinese law enforcement agencies over the case, they had yet to respond, showing a clear "failing" in the reporting and communication mechanism between both sides.
Comments will be moderated. Keep comments relevant to the article. Remarks containing abusive and obscene language, personal attacks of any kind or promotion will be removed and the user banned. Final decision will be at the discretion of the Taipei Times.