Attackers holed up on Indian base
At least two gunmen were holed up yesterday in a two-story building on an Indian Air Force base near the Pakistan border and were exchanging gunfire with troops, more than two days after they and several others attacked the heavily fortified compound, officials said.
Seven troops and four gunmen have been killed in fighting that started after several suspected militants infiltrated the base in Pathankot before dawn on Saturday.
The Indian Ministry of Defense has said that authorities had been alerted about a potential attack in the area on Friday and that aerial surveillance spotted the gunmen as they entered the base, leading to criticism of the government's handling of the situation.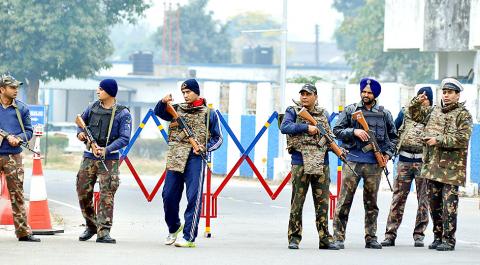 Indian Air Force personnel yesterday stand guard outside an air force base in Pathankot in the wake of an attack by militants on the base on Saturday.
Photo: EPA
The Indian Army said in a statement that the building where the remaining gunmen were firing from is part of the living quarters.
Indian National Security Guard Major General Dushyant Singh told reporters in Pathankot that it would take a "long time" to declare the base completely secure because of its size and geography.
The Pathankot base is spread over more than 800 hectares, including some forested sections with very tall grass.
Base commanding officer Lieutentnant Colonel JS Dhamoon described it as a "mini-city" that includes homes for families and a school for the children of the personnel stationed there.
Officials have said that there have been no civilian casualties and that no aircraft or military equipment has been damaged in the fighting.
The base houses a fleet of India's MiG-21 fighter aircraft and Mi-25 and Mi-35 attack helicopters,
That seven troops inside a military base were killed despite intelligence alerts has angered many in India.
"The biggest problem is the multiplicity of command and control. Nobody knows who is really in charge," Jane's Information Group analyst Rahul Bedi said. "It's a huge embarrassment. It's a major goof-up for everybody."
Comments will be moderated. Keep comments relevant to the article. Remarks containing abusive and obscene language, personal attacks of any kind or promotion will be removed and the user banned. Final decision will be at the discretion of the Taipei Times.