Aung Sang Suu Kyi puts peace first
Aung San Suu Kyi yesterday said the country's peace process will be the first priority of her new government that will take power later this year, following a landslide victory in an election in November last year.
The country has struggled for decades to reach lasting peace agreements with a multitude of ethnic minority guerrilla groups that have fought against the government for greater autonomy and recognition.
The government signed a ceasefire in October last year, but the deal fell short of its nationwide billing, with seven of 15 groups invited declining to sign, including some of the most powerful.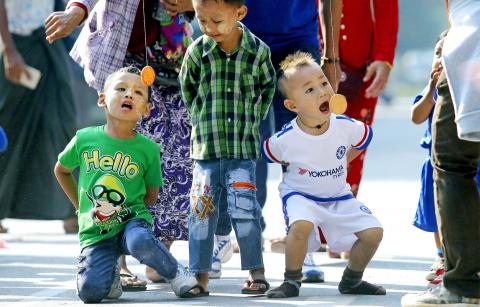 Young boys participate in a snack-eating game during an event to mark the 68th anniversary of Myanmar's Independence Day in Mandalay.
Photo: EPA
Fighting has since flared in eastern parts of the country between the military, non-signatories and groups that did not take part in the negotiations.
"The peace process is the first thing the new government will work on. We will try for the all-inclusive ceasefire agreement," Aung San Suu Kyi said in a speech to mark Independence Day at the headquarters of her party, the National League for Democracy (NLD), in Yangon.
"We can do nothing without peace in our country," she said.
Aung San Suu Kyi spurned the government-lead peace talks that Burmese President Thein Sein touted as a major achievement of his semi-civilian administration, which took power in 2011, ending 49 years of direct military rule.
She did not attend the signing ceremony in October.
The next step in the peace process, a political dialogue with the eight groups that signed, is set to begin on Tuesday next week.
The NLD-led government will take power in March following a presidential election expected to take place next month, but the military will remain a powerful political force.
A quarter of seats in parliament are reserved for unelected military officials. Three important Cabinet ministers — home affairs, defense and border affairs — are also chosen by the commander-in-chief.
Aung San Suu Kyi is barred from becoming president under the military-drafted constitution.
Her speech was one of her first since winning the election and marked 68 years of Myanmar's independence.
Comments will be moderated. Keep comments relevant to the article. Remarks containing abusive and obscene language, personal attacks of any kind or promotion will be removed and the user banned. Final decision will be at the discretion of the Taipei Times.