Gunman kills two in Tel Aviv attack
MANHUNT: Police mounted a search for the suspect, who was described as an Arab in his late twenties, while at least seven others injured were hospitalized
Two people were killed and at least seven wounded on Friday when a gunman opened fire on a bar and nearby cafe in central Tel Aviv, but the motive was not immediately clear.
The shooting came amid a recent wave of Palestinian attacks on Israelis and days after the leader of the Islamic State group threatened the Jewish state with violence.
However, police stressed they were investigating in "all directions."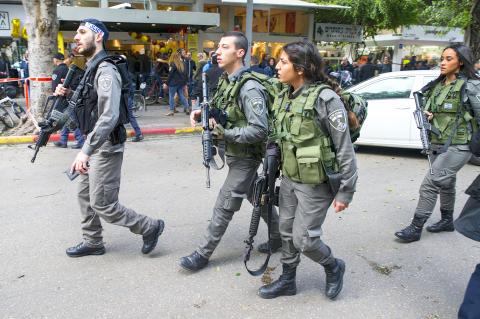 Members of the Israeli security forces search the area following an attack by an unidentified gunman, who opened fire at a bar, killing two people and wounding at least seven in Tel Aviv, Israel, on Friday.
Photo: AFP
Media reports identified the shooter as an Arab in his late twenties from northern Israel who had recently been jailed for trying to snatch a soldier's weapon, but police refused to confirm.
Ayman Odeh, who heads the Joint List that groups the main Arab parties in parliament, said that "while not all the details of the incident are clear yet," he "sharply and clearly" condemned any attack on innocent people.
Closed-circuit TV footage from a nearby grocery store showed a bespectacled young man with a backpack calmly pretending to shop before going to the exit, placing the backpack on a trolley, removing what looks like a submachine gun and opening fire in the street.
A police spokeswoman refused to confirm or deny reports that a copy of the Koran was found in the assailant's backpack.
Medics said they took nine people to hospitals in Tel Aviv, with police saying two of them had died.
One of those killed was identified by his father as Alon Bakal, a law and business student who was a manager at Simta, the bar that was targeted, with police naming the second as Shimon Ruimi from southern Israel.
A reporter said patrons at the bar and a nearby cafe had been shot at, and that the sidewalk was strewn with chairs and broken glass as forensic officers examined the scene.
Witnesses said people had braved the chilly weather to sit outside on terraces at both venues, located on Dizengoff Street, a central thoroughfare of bars, cafes and shops.
"Police units searching Tel Aviv area for suspect who carried out shooting. All injured taken to Tel Aviv hospitals," spokesman Micky Rosenfeld wrote on Twitter.
Hundreds of police were scouring the area, entering buildings in the vicinity as police helicopters buzzed overhead.
Haim Pinto was closing his jewelry store near the bar when the shooting began.
"People started running in my direction, yelling 'terrorist, terrorist.' I saw the commotion and went right back into my store, another girl came in and we hid in the bathroom till the shooting ended," he told reporters.
Pinto said the bar had opened "just a few months ago."
Osnat David, who owns a hair salon near the pub, said she was outside smoking a cigarette just two minutes before the attack began.
"If I were there when it happened, I would have been dead," she told reporters, recounting how she hid in her salon's storage room with a few customers, clutching a pair of scissors and waiting for the shooting to end.
French tourist Alexandre Lambez was at a cafe across the street from the one targeted.
"I heard gunshots and turned around; I saw people rushing to the back of the cafe. I heard screaming and saw a man shooting. He was brown-haired, wearing a grey sweater and fled the scene," he told reporters.
"I immediately thought of the attacks in Paris," he said, referring to extremist attacks in November last year that killed 130 people at bars, a concert hall and the Stade de France.
In a recording released yesterday, Islamic State leader Abu Bakr al-Baghdadi is apparently heard pledging to attack Israel, saying his group has "not forgotten Palestine for a single moment."
Twenty Israelis, an Eritrean and one US citizen have been killed in a wave of Palestinian attacks since Oct. 1 last year, including stabbings, car-rammings and gunfire targeting security forces and civilians.
According to an AFP count, 138 Palestinians have been killed by Israeli forces since the start of the latest violence, most while carrying out attacks on Israelis.
Earlier on Friday, Israel handed over to their families the bodies of 23 Palestinians killed during recent attacks on Israelis, in an apparent bid to ease tensions.
Comments will be moderated. Keep comments relevant to the article. Remarks containing abusive and obscene language, personal attacks of any kind or promotion will be removed and the user banned. Final decision will be at the discretion of the Taipei Times.