US JSTAR defense planes bid approved
MILESTONE A: Three companies in the running for a multibillion-dollar contract to build US Air Force planes have been given funding approval to begin demonstrations
The US Department of Defense chief arms buyer has approved the next step in a long-awaited multibillion-dollar competition to replace the air force's aging fleet of E-8 Joint Surveillance Target Attack Radar System (JSTARS) aircraft spy and battle management planes.
The US Department of Defense Undersecretary for Acquisition, Technology and Logistics Frank Kendall this week signed a memorandum approving the start of the so-called Milestone A phase of the program, defense spokeswoman Maureen Schumann said on Friday.
That paves the way for funding of demonstrations of the new aircraft, two sources familiar with the decision said.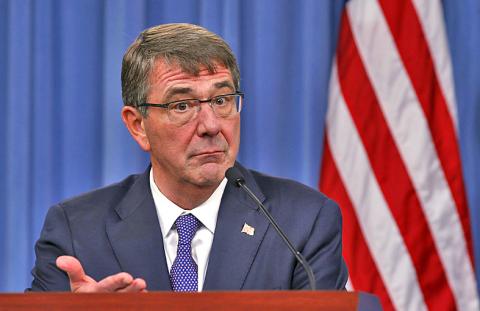 US Secretary of Defense Ashton Carter speaks on Friday during a news conference at the Pentagon in Washington.
Photo: Reuters
Three teams are competing for the work: Northrop Grumman Corp, which built the existing planes and is teaming with General Dynamics Corp; Lockheed Martin Corp, which is working with Raytheon Co and Canada's Bombardier; and Boeing Co.
Additional details about the memorandum were not immediately available, but a source familiar with the decision said the departments fiscal 2017 budget request would include funding for the program.
US Congressman Tom Graves welcomed the news, calling it a "significant step" toward replacing the aging fleet with next-generation aircraft.
"I am confident that the Defense Department understands JSTARS is a major priority for Congress and will complete the process of updating the JSTARS fleet in a timely manner," Graves said.
Lockheed said it looked forward to helping assess the technical maturity of various subsystems, reducing risks involved with weapon system engineering and working to lower the cost of operating the new aircraft.
Boeing said it was ready to demonstrate its capabilities and was convinced that its 737-based solution was the "right-sized aircraft."
Northrop declined comment.
The source familiar with the decision, who was not authorized to speak publicly, said the department had reviewed alternatives and ruled out using uncrewed aircraft.
Kendall met this week with Graves and other US lawmakers, who have pressed the department to accelerate work on a replacement for its fleet of JSTARS, which has flown over 100,000 combat hours and is approaching the end of its service life.
Graves and 59 other members of two key defense committees in US Congress told US Secretary of Defense Ashton Carter in a letter dated Nov. 20 that they were concerned about delays in the acquisition program since only half of the current fleet of 16 aircraft were combat ready at any given time because of maintenance.
"Replacing the existing fleet with next-generation aircraft is essential, which is why we want to ensure that the critical mission performed by the JSTARS team is not jeopardized by a lengthy acquisition process," the lawmakers wrote.
Comments will be moderated. Keep comments relevant to the article. Remarks containing abusive and obscene language, personal attacks of any kind or promotion will be removed and the user banned. Final decision will be at the discretion of the Taipei Times.