NZ's new flag might feature fern and stars
New Zealanders have chosen a design for a possible new national flag that features the country's iconic silver fern alongside the four stars that make up the Southern Cross constellation.
Preliminary results from a postal ballot were announced on Friday with the results too close to call between two flags that feature the same design, but with different colors. The winner is to be announced on Tuesday once all late votes and overseas ballots are counted.
However, that would not mark the end of the process. Whichever flag wins on Tuesday is then to be pitted head-to-head against the current flag in a second vote to be held in March next year.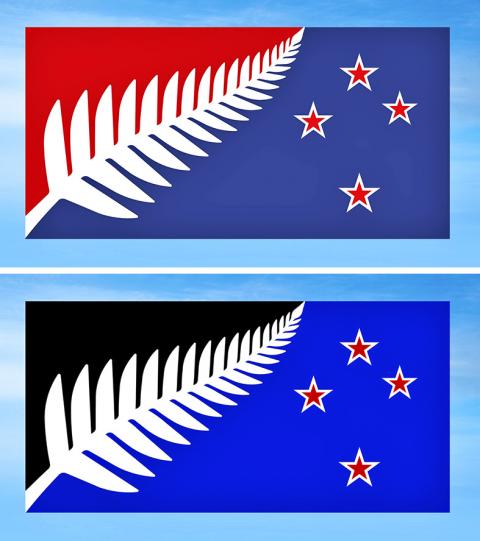 An undated combination picture made available by the New Zealand government shows two possible options for a replacement New Zealand flag.
Photo: AP
The winning design has similarities to the current flag. It retains the four red stars representing the Southern Cross, but ditches the British Union Jack in favor of the fern, which has become a national symbol and is worn by many sports teams including the All Blacks rugby team.
New Zealanders were choosing between five options for an alternative flag. Two were designed by Kyle Lockwood with the color in the top left corner black in one design and red in the other. Preliminary results released on Friday showed Lockwood's black option winning 50.5 percent of the vote and the red option 49.5 percent in a runoff voting system.
Figures from New Zealand's Electoral Commission indicated it had received 1.53 million votes by Friday, representing 48 percent of eligible voters in the nation of 4.6 million people. Some late votes and overseas ballots are not to be counted until Tuesday when the official result is announced.
New Zealand Deputy Prime Minister Bill English said in a statement that the results showed there was a strong public interest in the process.
"New Zealanders can now turn their attention to deciding whether to keep the current flag, or replace it," he said.
However, main opposition Labour Party leader Andrew Little said many people had protested the referendum by casting votes that were ineligible to be counted. About 10 percent of all votes were ineligible.
Initially there were only four alternative flag options slated for the ballot, but a popular campaign for a geometric design called "Red Peak" prompted lawmakers to amend the rules to add it to the finalists. However, Red Peak ended up finishing a distant third behind the Lockwood designs.
Comments will be moderated. Keep comments relevant to the article. Remarks containing abusive and obscene language, personal attacks of any kind or promotion will be removed and the user banned. Final decision will be at the discretion of the Taipei Times.