Rival protests clash in Australia
'HALAL-FREE' BARBEQUE: Rise Up Australia president Daniel Nalliah led anti-Islam protests at Cronulla Beach with chants of 'Aussie, Aussie, Aussie, oi, oi, oi,'
Scuffles broke out between anti-Islam and anti-racism protesters as hundreds of people and police congregated at a Sydney beach yesterday to mark the 10th anniversary of modern Australia's worst race riots.
Riot police and mounted units descended on Cronulla Beach in southern Sydney, as anti-Islam groups blocked by courts from organizing a "memorial" rally in support of the Dec. 11, 2005, incident held a "halal-free" barbecue.
The riot — which saw a drunken white mob of thousands attack Arab-Australians after two lifeguards at the beach were beaten up — led to retaliatory attacks.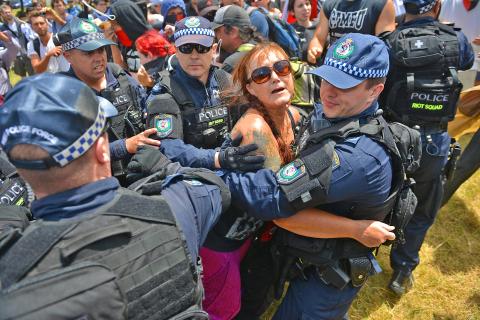 A woman is held back by police after she tried to confront demonstrators taking part in an anti-racism protest at Cronulla Beach in Sydney yesterday.
Photo: AFP
It shocked Australians and ignited a debate over whether the nation built on migrants was racist.
The anniversary has taken on fresh resonance amid growing concerns about homegrown extremism and Australians traveling to Iraq and Syria to support extremist groups.
It also came just days before Australia marks one year since two hostages were killed along with an Iranian gunman in a 17-hour siege at a Sydney cafe.
However, authorities' fears about an outbreak of violence appeared to be largely quelled by the heavy presence of police, who outnumbered the 200 or so protesters.
The two groups were mostly kept apart, although there were several run-ins that were quickly broken up. Two men were arrested, New South Wales state police told reporters.
Far-right group Rise Up Australia president Daniel Nalliah led the barbecue with chants of "Aussie, Aussie, Aussie, oi, oi, oi," a refrain usually heard at sporting events.
"If you come here, integrate in Australian life and culture... [or] shut up, pack up and get out," the Sri Lankan immigrant said to cheers from the crowd, some of whom had draped the national flag over their shoulders.
Holding banners such as "stand with Muslims against racism," the rival rally consisting of socialists, anarchists and other groups chanted "say it loud, say it clear, Muslims are welcome here."
"I lived here during the riot and for years I was ashamed to tell people I was from here," one protester — Cronulla local resident Andrew, who did not want to give his last name — told reporters. "[Cronulla's] become a nice place, I don't want it to go back to what it was."
Another local resident, Margaret, who did not give her last name, told reporters the anti-Islam rhetoric was "spreading hatred in our community when we should be spreading tolerance."
Comments will be moderated. Keep comments relevant to the article. Remarks containing abusive and obscene language, personal attacks of any kind or promotion will be removed and the user banned. Final decision will be at the discretion of the Taipei Times.