Gangster arrested over boy's death
A Chicago man was on Friday charged with first-degree murder in connection with the slaying of a nine-year-old boy, who police say was lured from a playground and shot in the head because of his father's gang ties.
Police Superintendent Garry McCarthy said the suspect, Corey Morgan, 27, is a gang member with an extensive criminal history. McCarthy said two other men, including one jailed on an unrelated gun charge, also are suspected in the death of Tyshawn Lee, who was shot in an alley near his grandmother's home on Nov. 2.
Prosecutors allege Morgan was intent on settling a score after a shooting last month killed his brother and injured his mother in a months-long gang feud. However, his attorney, Jonathan Brayman, said Morgan "absolutely denies" being involved in the boy's death.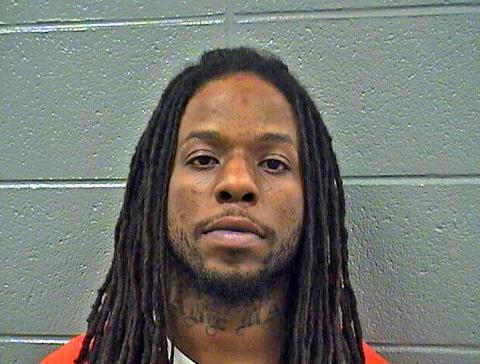 Corey Morgan, 27, is shown in a booking photograph taken and provided by the Cook County Sheriff's Office in Chicago, Illinois, on Friday.
Photo: Reuters
McCarthy said the three men's precise roles were still under investigation, but that all were members of the same gang.
"They are going to be obliterated. That gang just signed its own death warrant," McCarthy said during a news conference.
Tyshawn's slaying shocked a city already grimly familiar with gang violence. The fourth-grader was shot at close range — in the head and back. McCarthy praised local residents, saying they overcame fears and risks of retaliation to come forward and offer tips to police.
"If you have a monster who is willing to assassinate a nine-year-old, what is that person likely to do if they know that somebody's cooperating with the case?" McCarthy said at a news conference.
Investigators allege Morgan was looking for targets after an Oct. 13 shooting that killed his brother while he and his mother were in a car, prosecutors said during a hearing on Friday.
Morgan later said he "was going to kill grandmas, mamas, kids and all," and that he and the other two suspects went out armed every day looking for targets, prosecutors said.
The three men spotted Tyshawn in a play lot where he had climbed onto the swings after setting his basketball down beside him, prosecutors said. Investigators allege one man approached the boy, dribbled a basketball and handed it back to Tyshawn before leading him into an alley while the other suspects followed in a sports utility vehicle.
One of the men shot the boy multiple times at close range, prosecutors said. One bullet cut through the boy's right thumb, suggesting he was holding his hands out to block the gunshots, according to an autopsy report.
Authorities said Morgan was a convicted felon with an extensive violent criminal history.
Detectives have not recovered the murder weapon, but they believe only one person fired because all the spent bullet casings were from a single gun, McCarthy said.
Comments will be moderated. Keep comments relevant to the article. Remarks containing abusive and obscene language, personal attacks of any kind or promotion will be removed and the user banned. Final decision will be at the discretion of the Taipei Times.