Russia, Turkey ramp up rhetoric over downed jet
CLASHING HORNS: The Turkish president advised 'Russia not to play with fire,' while the Russian foreign minister said Turkey had 'crossed the line of what is acceptable'
Moscow slapped sanctions on Ankara on Friday as the war of words over a downed Russian warplane escalated, with Turkish President Recep Tayyip Erdogan warning Russia not to "play with fire."
Russia announced it was halting a visa-free regime for Turkish visitors, after threatening a raft of retaliatory economic measures to punish the NATO member state.
Tuesday's incident has sent recriminations flying between two rival players in the Syrian war just as countries such as France are pushing for a broader coalition to try to defeat the Islamic State group.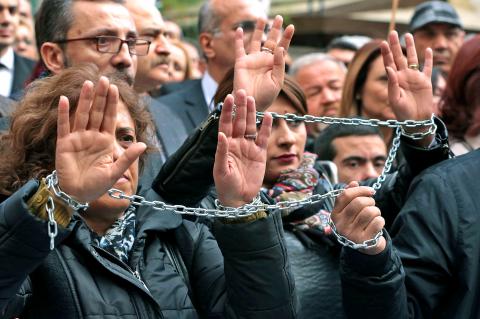 Demonstrators chain their hands to protest against the jailing of two journalists, in Ankara, Turkey, on Friday.
Photo: AP
The angry exchange has not been limited to official channels.
In Crimea, a group of young people gathered around a hay effigy with the face of Erdogan set up on the main square of Simferopol.
Protesters in Moscow, belonging to a youth wing of the conservative Rodina Party, put a life-size inflatable doll of Erdogan in a coffin and delivered it to the Turkish embassy.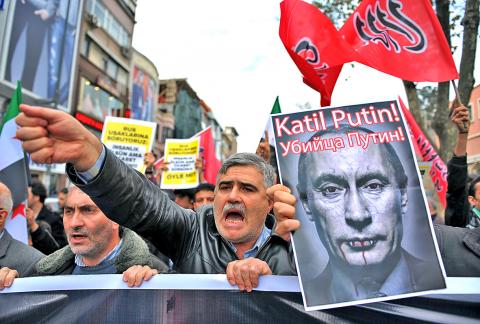 Turkish protesters hold a poster of Russian President Vladimir Putin that reads in Turkish and Russian, "Assassin Putin," during a protest in Istanbul, Turkey, on Friday.
Photo: AP
Pictures on the group's Web site also showed protesters laying several funeral wreaths with ribbons saying "From Russian patriots to US puppets" outside the embassy.
Police detained two organizers. They were let go when law enforcement discovered they were municipal lawmakers, the group said.
"We advise Russia not to play with fire," Erdogan said in a speech in Ankara, lashing out at Russia's response to the downing as well as its support of the regime of Syrian President Bashar al-Assad.
Erdogan nevertheless said he wanted a direct meeting with Russian President Vladimir Putin when the two leaders are in Paris next week for the UN climate summit.
However, Moscow officially responded coolly, saying Turkey has yet to apologize for shooting down the jet on the Syrian border.
Turkey said the Su-24 strayed into its airspace and ignored repeated warnings but Russia insisted it did not cross from Syria.
It is thought to be the first downing of a Russian plane by a NATO member in more than half a century.
One of the pilots was shot dead in Syria after parachuting out of the burning plane while the second was found safe and sound, but one Russian soldier was killed in a rescue operation.
Russian Foreign Minister Sergei Lavrov said Turkey had "crossed the line of what is acceptable" and warned the incident could severely undermine both its national and regional interests.
Moscow has ruled out any military response, but has pledged broad measures targeting entire sectors of the Turkish economy including tourism, agriculture and possibly key energy projects.
Lavrov said Turkish nationals would require visas from Jan. 1, after Putin this week warned citizens not to travel to Turkey — a hugely popular destination for Russians.
"Russia is quite concerned with increasing terrorist threats in the Republic of Turkey," Lavrov added, after a spate of bloody attacks blamed on the Islamic State group there.
Russian Prime Minister Dmitry Medvedev on Thursday gave ministers two days to work out a plan to curb cooperation with Turkish companies after Russia said it would tighten checks on food imports over alleged safety standard violations.
Moscow has also hinted the reprisals could hit two major projects with Turkey — a planned gas pipeline and a nuclear power plant.
Erdogan said Turkey did not "deliberately" shoot down the plane.
He dismissed Putin's criticism of the incident as "unacceptable," noting that Russian planes had twice violated Turkish air space in October.
He also attacked the Kremlin's policy in Syria after it launched airstrikes in September, saying it was backing the "murderer" Assad and not targeting the Islamic Strate group.
Comments will be moderated. Keep comments relevant to the article. Remarks containing abusive and obscene language, personal attacks of any kind or promotion will be removed and the user banned. Final decision will be at the discretion of the Taipei Times.