Chicago police officer indicted
DENIED BOND: Jason Van Dyke is the first police officer in the city in decades to be indicted for murder in connection with an on-duty incident
A white Chicago policeman on Tuesday was charged with murdering a black teenager, hours before authorities released a graphic video showing the youth walking away from officers as he is shot 16 times.
The footage of last year's shooting, taken from a camera mounted on the dashboard of a police car and made public under orders from a judge, prompted mostly peaceful street demonstrations in Chicago.
The clip showed 17-year-old Laquan McDonald, who authorities said was carrying a pocket knife and had the hallucinogenic drug PCP in his system, as he was gunned down in the middle of a street on Oct. 20 last year.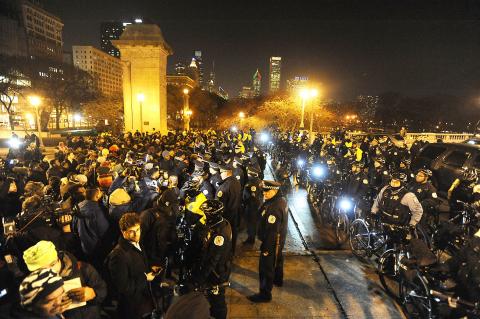 Police officers early yesterday morning form a line to keep a protest over the death of 17-year-old Laquan McDonald from entering Grant Park in Chicago, Illinois, after a video of the teen's death on Oct. 20 last year was released on Tuesday.
Photo: AP
McDonald is seen jogging away from patrol vehicles pursuing him from behind, and then veering off diagonally at a walk as two more officers pull up in a squad car ahead of him.
Two policemen are shown jumping out of their vehicle in the center of the road, and drawing their weapons while advancing toward McDonald, who continues to move away. Within seconds he is struck by bullets, spins and crumples to the ground, his body jerking as he is hit by additional rounds of gunfire.
McDonald's death came at a time of intense national debate over police use of deadly force, especially against minorities.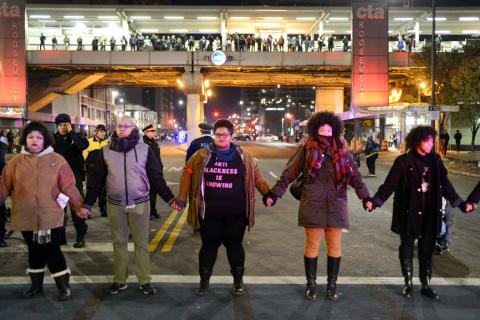 Protesters early yesterday morning shut down a street during a protest over the death of 17-year-old Laquan McDonald in Chicago, Illinois.
Photo: AP
Officer Jason Van Dyke is the first Chicago police officer charged with murder for an on-duty incident in decades.
Cook County's lead prosecutor, Anita Alvarez, acknowledged that she timed the filing of the first-degree murder charge against Van Dyke to precede the video's disclosure in a bid to mute harsh public reaction to the footage.
"With release of this video it's really important for public safety that the citizens of Chicago know that this officer is being held responsible for his actions," she said.
The video originally was expected to be released a day later, in compliance with a deadline of yesterday set by a judge. However, police said they made the clip public on Tuesday evening after it was leaked to a local television station. Technical issues were blamed for a lack of audio with the tape.
Authorities, including Chicago Mayor Rahm Emanuel, appealed for calm as the city hoped to avert the turmoil over race and the use of lethal police force that has shaken much of the US for more than a year.
Hundreds of protesters gathered after dark a few miles east of the site of the shooting. They marched through the streets chanting: "You don't get to kill us and tell us how to feel. You don't get to shoot us and tell us how to heal."
Police said two protesters were arrested after a scuffle on Michigan Avenue.
"It's a good start that they have charged the police officer, but we've clearly reached the point where something needs to change," protester Monique Winegard, 33, said.
Demonstrators had assembled outside a police precinct by 9pm, demanding the release of the two people arrested. Protesters later surrounded a police vehicle in a brief standoff.
The crowd began to wane as the night wore on, and the late-autumn air grew colder, although a core group of at least 200 continued to march from block to block in what were essentially large circles enclosed by police lines. Some protesters briefly blocked an expressway entrance ramp.
The video, and prosecutors' account of the shooting, contradicted assertions by Van Dyke's lawyers and the police union that the shooting was justified because he felt threatened by the youth.
Prosecutors said that Van Dyke fired the shots within 30 seconds of arriving at the scene, and just six seconds after emerging from his patrol car, emptying his gun at McDonald and preparing to reload.
McDonald was hit by 16 rounds, all from Van Dyke's weapon, the prosecutors said.
"Clearly, this officer went overboard and he abused his authority, and I don't think use of force was necessary," Alvarez said at a news conference after Van Dyke's initial hearing.
Van Dyke was denied bail at a hearing in Chicago's main criminal courthouse hours after the criminal charge was announced. He could face 20 years to life if convicted.
McDonald's family called for calm, as did city authorities.
Comments will be moderated. Keep comments relevant to the article. Remarks containing abusive and obscene language, personal attacks of any kind or promotion will be removed and the user banned. Final decision will be at the discretion of the Taipei Times.