Hangzhou McCafe opened in Chiang Ching-kuo home
CONTROVERSY: The chain is under fire for putting an outlet in the designated historic site, but Starbucks was already in residence in a side wing of the home
The McCafe opened on Friday last week in the former residence of former president Chiang Ching-kuo (蔣經國), near West Lake in Hangzhou, Zhejiang Province.
A side wing of the two-storey wood and brick lakeside villa had already been turned into a Starbucks last month.
Chiang lived in the Western-style villa with his family for a short time in 1948. Local authorities had been trying to rent out the building, which is officially listed as a historical site, for years, according to local reports.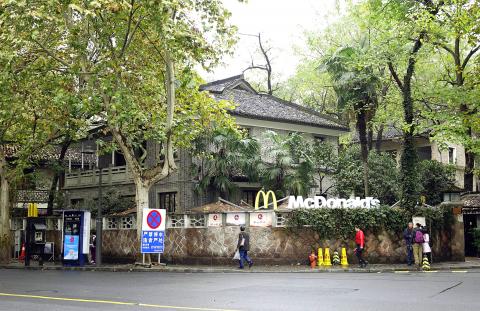 People walk past a McCafe in a former home of former Republic of China president Chiang Ching-kuo near the West Lake in Hangzhou, China.
Photo: AFP
"Why have they not opened a KFC at Yan'an [the birthplace of the Chinese Communist Party revolution]?" one user wrote on a microblog.
Another said: "The sign [on the building] says it is a heritage site. It should retain its original history and culture. As it is historical heritage, it should not be commercialized!"
However, another, describing herself as an architecture student in Hangzhou, said: "McDonald's have maintained the old structure and have kept the original Chinese style. It is not only heritage protection, it is also convenient for tourists."
Chiang's grandson, Demos Chiang (蔣友柏), has previously said that he was approached to take part in the building's restoration, but refused to cooperate once he discovered it was being turned into a McDonald's.
A McDonald's spokesperson declined to comment.
Comments will be moderated. Keep comments relevant to the article. Remarks containing abusive and obscene language, personal attacks of any kind or promotion will be removed and the user banned. Final decision will be at the discretion of the Taipei Times.