Survivors unlikely in dam disaster
HAMPERED EFFORTS: Rescue teams continued to remove mud from the flood site that acts like quicksand and now threatens to taint the water supply of neighboring towns
The 28 people missing since the failure of two dams at an iron ore mine flooded a village in southeastern Brazil are unlikely to be found alive, the governor of the affected state said on Sunday.
Speaking at a news conference, Minas Gerais Governor Fernando Pimentel said it was still not known what triggered Thursday's failure of dams at the Samarco mine, which sent viscous red mud, water and debris flooding into the hamlet of Bento Rodrigues, flattening all but a handful of buildings.
The mud tide has continued to spread, causing flooding in other nearby towns, pouring into an area river and threatening the water supply of several cities in the neighboring state of Espirito Santo.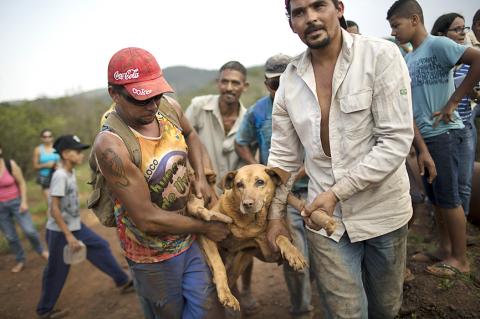 Men on Saturday carry an injured dog on a makeshift stretcher after rescuing it in the small town of Bento Rodrigues, Brazil.
Photo: AP
"One lost human life would be irreparable — imagine 28," Pimentel was quoted as saying by the Rio de Janeiro newspaper O Globo. "It's a disaster, a tragedy of great dimension."
One person has been confirmed dead and 15 village residents and 13 mine workers are listed as missing, the governor and the state fire department said on Sunday.
The number of missing has been in flux in recent days, with local officials saying pockets of survivors might still be holed up in isolated areas.
Authorities on Saturday said that 19 people were missing, a few hours after reporting 23 people unaccounted for. The state fire department said on Twitter that two additional bodies had been found and sent to the coroner's office for identification. The message cautioned that "it has not been confirmed they are victims of the disaster."
In a later tweet, the fire department said a third body was located in the area on Sunday and workers were working to remove it from the mud.
Helicopter searches for survivors resumed on Sunday morning despite rainy conditions that have hampered rescue efforts.
Emergency response officials have said the volatility of the mud, which is still wet and can act like quicksand, can put rescue workers at risk.
A team of veterinarians was rescuing animals left behind in the tragedy, the governor said.
Pimentel said that Samarco, which is jointly owned by the Brazilian mining company Vale and Australia's BHP Billiton, has provided machines to help in the search efforts and is paying to house people whose homes were destroyed in the accident.
Comments will be moderated. Keep comments relevant to the article. Remarks containing abusive and obscene language, personal attacks of any kind or promotion will be removed and the user banned. Final decision will be at the discretion of the Taipei Times.