Thai soothsayer dies in custody
'LESE MAJESTE': The famous fortune-teller was the second person charged with royal defamation to be found dead recently while detained by military authorities
A famous Thai fortune-teller charged with royal defamation has died in military custody, officials said yesterday, the second time in weeks a person caught up in a shadowy palace intrigue probe has been found dead while in detention.
Thai authorities said Suriyan Sucharitpolwong, better known by his soothsayer name "Mor Yong," died of a blood infection on Saturday evening just hours after he was found unconscious in his cell at a Bangkok army barracks.
The Thai Ministry of Justice's Department of Corrections said the 53-year-old soothsayer was taken to a hospital after he was discovered by guards.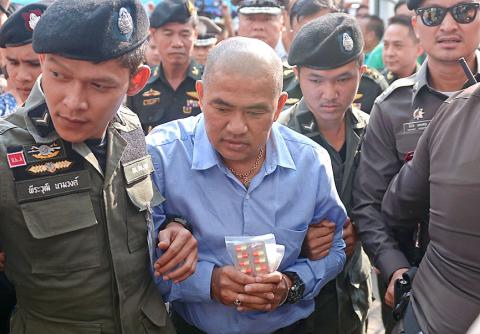 Thai police commandos escort fortune-teller Suriyan Sucharitpolwong, center, to a military court in Bangkok on Oct. 21.
Photo: AFP
"A hospital tried to revive him for about an hour, but they were unsuccessful," the statement said, adding that an autopsy carried out the following day showed he had succumbed to blood poisoning.
Suriyan's death raises questions over the military's role in a royal defamation probe that has swept up a string of high-profile figures and captivated local media.
He and his assistant were arrested last month, along with police major Prakrom Warunprapa, who authorities later announced had "hanged" himself while in military custody. The police officer's body was swiftly cremated in yet to be clearly explained circumstances.
The trio were last seen in public on Oct. 21 being led, hands bound and heads shaved, into a military courthouse where they were charged with a string of offenses including royal defamation.
Major Prakrom was reported dead just two days later.
Thai King Bhumibol Adulyadej, 87, is protected by one of the world's toughest royal defamation laws and prosecutions under it have skyrocketed since a coup in May last year.
The majority of those prosecuted for royal defamation are hammered for expressing critical views about the monarchy, and many have been slapped with decades-long sentences.
However, a dozen or so recent cases have involved palace or establishment figures charged in secrecy-shrouded investigations of improperly using their connections to the monarchy to make money.
Suriyan, his assistant and Prakrom belonged to the latter category. Details of the ongoing investigation are scant, as is common in royal defamation cases. Even when the allegations are known, journalists must self-censor in order to avoid falling foul of the draconian law.
Ultraroyalist junta chief Prayuth Chan-ocha seized power in a coup that toppled the democratically elected government of former Thai prime minister Yingluck Shinawatra after months of political chaos and street protests.
Prayut said his coup was needed to restore order to the politically turbulent nation, while critics said it was another move orchestrated by the country's elite to grab power and prevent democracy from taking root in the kingdom.
The military takeover came as fears mount among competing elites over the kingdom's future, as Bhumibol's reign enters its twilight years — seen as a motivating factor behind the last decade of political turmoil.
Comments will be moderated. Keep comments relevant to the article. Remarks containing abusive and obscene language, personal attacks of any kind or promotion will be removed and the user banned. Final decision will be at the discretion of the Taipei Times.