Four firefighters injured in California
MULTIPLE FRONTS: Authorities are battling the Valley, the Butte and the Rough fires, which have burned more than 88,500 hectares and forced thousands to evacuate
Four firefighters have been injured fighting to contain a fast-moving wildfire in northern California that has forced thousands of people to evacuate their homes, but are in stable condition, a fire service spokesman said.
The wildfire, nicknamed the Valley Fire, has spread rapidly to span more than 10,000 hectares since it erupted on Saturday afternoon in Lake County, north of San Francisco, the California Department of Forestry and Fire Protection (Cal Fire) said on its Web site.
The blaze exploded amid triple-digit temperatures and land parched from several years of drought, while a thick layer of smoke kept air tankers and helicopters from flying on Saturday.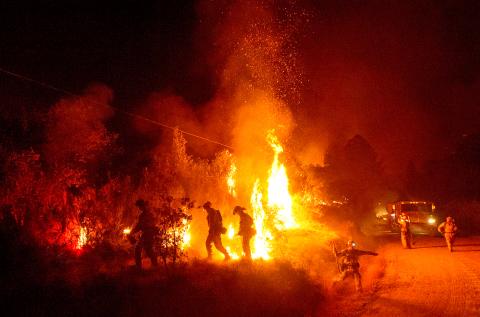 Firefighters on Saturday light a backfire while battling the Butte fire near San Andreas, California.
Photo: AFP
Early yesterday morning, local media showed footage of several structures ablaze in Middleton, a small community of about 1,500 residents, one of several that were ordered to evacuate by the Lake County authorities on Saturday.
Four firefighters, who had been dropped off by helicopter, suffered second-degree burns as they built containment lines, Cal Fire spokesman Daniel Berlant said.
The firefighters were airlifted to UC Davis Medical Center in Sacramento where they were listed in stable condition, Berlant later said on Twitter.
About 161km to the southeast, the so-called Butte Fire has destroyed 86 homes and 51 outbuildings in rural Amador and Calaveras counties, where it covers an estimated 26,305 hectares, officials said. It is only 15 percent contained.
Thousands of residents in the area were required to evacuate on Friday, and the blaze threatened more than 6,000 structures, officials said.
More than 3,800 firefighters were working to contain the fire, which erupted on Wednesday near the former gold mining town of Jackson. Its cause is under investigation.
California Governor Jerry Brown has declared a state of emergency in the area.
"I lost my business — it's all burned up — my shop, my house, 28 years of living," said Joe Thomas, who lives near Mountain Ranch in Calaveras County. "I got to start all over. It's depressing."
Annette Stout and other residents who fled rested at evacuation centers.
"I grabbed my cats, their carriers, important papers, my husband death's certificate and his ashes," Stout said.
Meanwhile, new evacuation orders were issued on Saturday for the largest wildfire in the state, dubbed the Rough Fire, which is burning in Kings Canyon National Park in central California.
The fire, sparked by lightning on July 31, has charred 521km2, according to the latest fire map released by the US Forest Service.
Firefighters on Saturday intentionally set low-intensity fires in a famed grove of giant sequoia trees in the park to remove vegetation and protect the grove from the wildfire, Schwarber said.
The giant sequoias themselves are naturally flame-resistant, officials said.
More than 2,900 firefighters were on the front lines of the blaze on Saturday, with containment listed at 29 percent, officials said.
Additional reporting by AP
Comments will be moderated. Keep comments relevant to the article. Remarks containing abusive and obscene language, personal attacks of any kind or promotion will be removed and the user banned. Final decision will be at the discretion of the Taipei Times.