Authorities hunt for India restaurant blast suspect
ON THE RUN: When they find the suspect who illegally stored explosives that killed 88 people on Saturday, he will be charged with culpable homicide, police said
Police were hunting yesterday for a suspect who illegally stored explosives in a restaurant building in central India that sparked a deadly blast, killing 88 people and injuring nearly 100.
The blast occurred in the town of Petlawad in Madhya Pradesh state's Jhabua District on Saturday morning when many office workers and schoolchildren were having breakfast in the restaurant and scores of laborers waited at a crowded bus stand near the building.
"The official death toll is 88, but the actual number may be higher, nearly 100. That will be confirmed soon," Jhabua District senior police official Seema Alava said by phone, adding that about 100 others were injured and rescue operations had been wrapped up.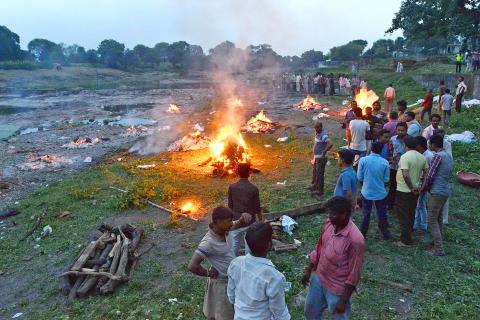 A mass funeral pyre of about 20 people who were killed in a restaurant explosion in Petlawad, burns in India's Madhya Pradesh state on Saturday.
PHOTO: AFP
She said police earlier thought the explosion was triggered by a gas cylinder, which detonated explosives that were stored illegally in the restaurant building and amplified its impact, destroying neighboring buildings and vehicles.
"It was the other way around. The explosives in the building exploded first. Extreme heat sparked a urea nitrate chemical reaction and then that was it. Everything went off after that," Alava said.
She said a suspect, Rajendra Kasawa, who has been on the run with his brothers since Saturday, had illegally stored urea, gelatine sticks, detonators and other explosives used for digging wells, construction and mining in a warehouse in the building.
Homicide
Although Kasawa had a license for the material, Alava said he stored them "in an unauthorized way in a residential area" and therefore has been booked for culpable homicide and unlawful possession of explosives.
"We were up almost all night. We will find him, it is only a matter of time," she said.
Madhya Pradesh Chief Minister Shivraj Singh Chouhan visited Petlawad, 950km south of New Delhi, yesterday.
"I'm deeply saddened by the incident at Petlawad. I could not sleep the whole night," Chouhan told reporters before visiting the blast site.
Locals surrounded him and demanded better security, saying their earlier complaints against Kasawa had gone unheard by district officials, resulting in one of the deadliest blasts to hit India in recent years.
Many complained that mine operators like Kasawa are negligent in storing detonators and other explosive materials, yet authorities rarely act against them.
Photographs from Saturday's scene showed corpses covered in dust and ash lying in the streets alongside the twisted wreckage of burned-out vehicles and witnesses described seeing body parts strewn in the street.
Workers collected firewood and lit pyres that billowed black smoke into the sky as mass cremations of dozens of people were carried out late on Saturday.
Jhabua District is home to several manganese and bauxite mines where many mine workers are hired on contract from Petlawad and its neighboring towns.
Comments will be moderated. Keep comments relevant to the article. Remarks containing abusive and obscene language, personal attacks of any kind or promotion will be removed and the user banned. Final decision will be at the discretion of the Taipei Times.