Sanctions on Iran could be lifted by spring
Britain's foreign minister says Iran is a major regional player that can be an ally in fighting terrorism — but the UK must "tread carefully" in its relationship with Tehran.
He also told reporters that he expected sanctions on Iran could start to be lifted as early as spring next year.
Tehran and world powers struck a deal last month on Iran's contested nuclear program, and on Sunday Britain and Iran reopened their respective embassies after a break of several years.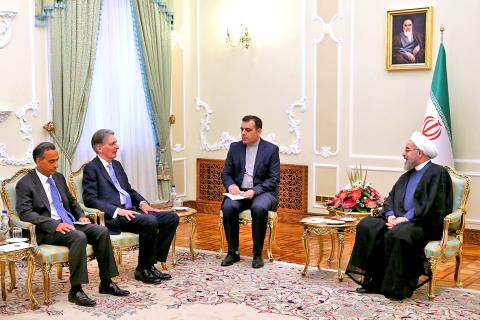 Iranian President Hassan Rouhani, right, yesterday speaks with British Foreign Secretary Philip Hammond, second left, as UK charge d'affairs in Tehran Ajay Sharma, left, and an unidentified interpreter, center, listen during a meeting in Tehran.
Photo: AP
British Foreign Secretary Philip Hammond, who yesterday met Iranian President Hassan Rouhani in Tehran, said the two countries shared common ground despite a "deep legacy of distrust."
He said they agreed on the need to defeat the Islamic State group, and to stop opium from Afghanistan reaching Europe.
Hammond told the BBC that "Iran is too large a player, too important a player in this region, to simply leave in isolation."
Preparatory work should be done ahead of lifting sanctions so investment can start to flow as soon as the measures are removed.
"We could be talking as early as next spring to start to see sanctions lifting off," Hammond said.
He also said that he expected Iran and the US could endorse the nuclear deal they reached last month by October.
On Syria, where Tehran has lent support to Syrian President Bashar al-Assad, Hammond said Britain and Iran still had fundamental differences over the future of the Syrian leader.
"The thing we disagree on is the role of one single person, Bashar al-Assad, in this process. But the important thing is we are talking," Hammond said. "If we are going to get to a political solution we have to have the Iranians and the Russians engaged in that process too."
He said Rouhani had sent out strong signals of a desire for dialogue and Iran wanted to turn a page in its relations with the West.
Additional reporting by Reuters
Comments will be moderated. Keep comments relevant to the article. Remarks containing abusive and obscene language, personal attacks of any kind or promotion will be removed and the user banned. Final decision will be at the discretion of the Taipei Times.