Sri Lanka Freedom Party forms coalition with ruling UNP
Ranil Wickremesinghe was yesterday sworn in as Sri Lanka's prime minister for another term after securing the backing of the nation's second-biggest party for a new government of national unity.
The Sri Lanka Freedom Party (SLFP) of former Sri Lankan president Mahinda Rajapaksa agreed to enter a broad-based coalition government with Wickremesinghe's United National Party (UNP), although Rajapaksa is to remain on the opposition benches.
Details of the agreement were not immediately known, but the SLFP is expected to secure several portfolios in a Cabinet to be named on Monday.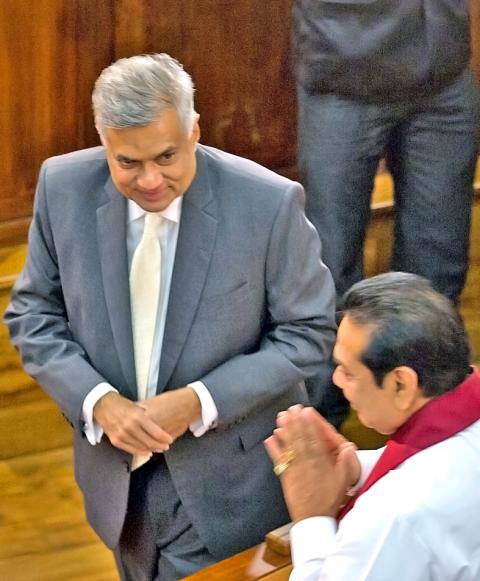 Sri Lankan Prime Minister Ranil Wickremesinghe leaves a swearing-in ceremony in Colombo yesterday.
Photo: AP
Wickremesinghe took the oath for a fourth term at his office in Colombo, overlooking the Indian Ocean, in a ceremony broadcast live on national television.
The UNP won the largest number of seats in Monday's election, but fell short of a majority in the 225-member parliament.
The Tamil National Alliance (TNA), which holds 16 seats, has said it would not join a coalition, but has promised the new government "issue-based" support.
Rajapaksa, who attended yesterday's swearing in, had hoped to become prime minister himself.
However, he conceded on Tuesday that his dream had "faded away" after results showed a surge in voter support for Wickremesinghe's UNP.
Rajapaksa, 69, suffered a surprise defeat in presidential elections in January, but remains popular among large sections of the majority Sinhalese community for presiding over a crushing defeat of Tamil separatist guerrillas.
He was succeeded as president by his former ally and health minister, Maithripala Sirisena, who appointed Wickremesinghe as prime minister to push through a series of major reforms.
Sirisena wants to reverse many of the constitutional changes brought in by Rajapaksa, who awarded himself huge powers as president.
He called parliamentary elections a year ahead of schedule after members of parliament loyal to Rajapaksa consistently blocked the changes.
The new government is likely to introduce legislation to establish independent commissions to run the police, public service and judiciary.
Comments will be moderated. Keep comments relevant to the article. Remarks containing abusive and obscene language, personal attacks of any kind or promotion will be removed and the user banned. Final decision will be at the discretion of the Taipei Times.