E-cigarettes much less harmful than tobacco: study
Electronic cigarettes are about 95 percent less harmful than tobacco and should be promoted as a tool to help smokers quit, a study by an agency of Britain's Department of Health said on Wednesday.
E-cigarettes, tobacco-free devices that people use to inhale nicotine-laced vapor, have surged in popularity, but health organizations have so far been wary of advocating them as a safer alternative to tobacco, while governments from California to India have tried to introduce bills to regulate their use more strictly.
"E-cigarettes are not completely risk free, but when compared to smoking, evidence shows they carry just a fraction of the harm," said Kevin Fenton of Public Health England, which carried out the study.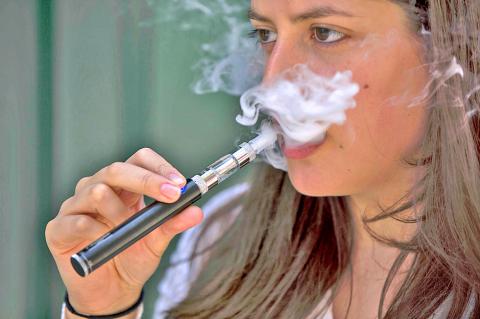 A woman smokes an electronic cigarette in London, England, on Wednesday. WARNING: SMOKING CAN DAMAGE YOUR HEALTH
Photo: Reuters
Most of the chemicals that cause smoking-related diseases are absent in e-cigarettes and the best estimate is that e-cigarette use is about 95 percent less harmful to health than smoking, the study said, adding that passive inhalation from such a device is also much less harmful.
The publicly funded study goes against a report last year by the WHO that called for stiff regulation of e-cigarettes and bans on their indoor use and sale to minors.
It also contradicts the finding of another study by researchers from the University of Southern California that said this week that US teens who tried electronic cigarettes might be more than twice as likely to move on to smoking conventional cigarettes as those who have never tried the devices.
The Public Health England study said e-cigarettes, which are already the most popular quitting aids in Britain and the US, could be a cheap way to reduce smoking in deprived areas where there is a high proportion of smokers.
It criticized media campaigns that have called e-cigarettes equally or even more harmful than smoking, and could serve as a "gateway" to tobacco cigarettes among teenagers.
"There is no evidence that e-cigarettes are undermining England's falling smoking rates," said Ann McNeil, who helped author the study. "Instead the evidence consistently finds that e-cigarettes are another tool for stopping smoking and in my view smokers should try vaping, and vapers should stop smoking entirely."
Almost all of the 2.6 million adults using e-cigarettes in Britain are current or ex-smokers who are using the devices to help them quit and only 2 percent of young people are regular users, the study said.
Tobacco firms have viewed e-cigarettes as a solution to declining sales and have bought makers of the devices.
Comments will be moderated. Keep comments relevant to the article. Remarks containing abusive and obscene language, personal attacks of any kind or promotion will be removed and the user banned. Final decision will be at the discretion of the Taipei Times.