Greece gets first slice of third bailout
BAILOUT BACKLASH: The 13 billion euro tranche is to go toward repaying debts and arrears, as the Greek PM faces rebellion in his own party over the bailout's terms
Greece yesterday received the first 13 billion euros (US$14.46 billion) of its new bailout, with 12 billion euros earmarked for repaying debts and the remainder for settling arrears to public sector suppliers.
Athens was using the funds to repay a 3.2 billion euro debt installment due yesterday to the European Central Bank (ECB) — an amount it could not have afforded to repay without the bailout from the 18 other European nations in the eurozone.
European bailout fund supervisors approved the release on Wednesday evening.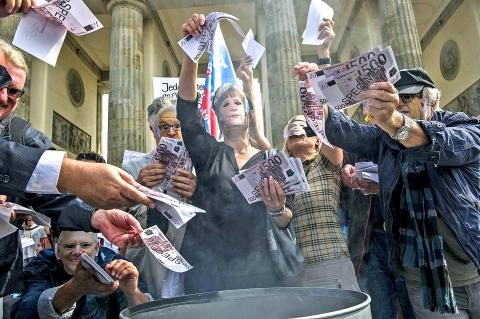 Members of the Alternative for Germany party wear masks depicting members of the German goverment and burn mock euro notes in Berlin on Wednesday.
Photo: EPA
Without the rescue loans — Greece's third bailout in little more than five years — the country would have defaulted on its debts and faced being forced out of the eurozone.
The new three-year bailout is worth 86 billion euros, with the disbursement of funds dependent on the Greek government implementing a series of reforms, including steep tax hikes and spending cuts.
Accepting the conditions was a major reversal of policy for Greek Prime Minister Alexis Tsipras and the coalition government between his left-wing SYRIZA party and the small right-wing Independent Greeks. It has cost him a major rebellion within SYRIZA that threatens to split the party and could lead to an early election as soon as next month.
Tsipras has been considering his options after a parliament vote to approve the bailout conditions led to dozens of his own party lawmakers voting against him. Among the options being discussed are for him to call a vote of confidence in his government or to call an early election — potentially next month.
The government has said its main priority was to secure the bailout funding and the repayment of the ECB loan yesterday, after which it would announce any further action.
Tsipras won January elections on promises to repeal similar austerity measures attached to Greece's two previous bailouts.
However, he has said accepting creditor demands for yet more reforms was the only way to ensure his country remains in the eurozone, which opinion polls have shown the vast majority of Greeks want.
Hardliners within his party have accused him of capitulating to unreasonable demands that are set to plunge the Greek economy further into recession.
Comments will be moderated. Keep comments relevant to the article. Remarks containing abusive and obscene language, personal attacks of any kind or promotion will be removed and the user banned. Final decision will be at the discretion of the Taipei Times.