Hip-hop film alternative to summer blockbusters
Underestimate the crossover appeal of N.W.A at your peril.
More than 25 years after the Los Angeles hip-hop group went double platinum with their unheralded debut album largely without the benefit of radio play, Ice Cube, Dr Dre and the rest shook up Hollywood in the dog days of summer.
Straight Outta Compton, the N.W.A biopic produced by Cube and Dre, blew away industry expectations over the weekend with a US$60.2 million debut, even more than the US$56.1 estimated on Sunday. The film, cofinanced by Universal Pictures and Legendary Pictures for just US$29 million, was propelled by a provocative trailer, savvy digital marketing, strong reviews and the same kind of audacity that made N.W.A famous in the first place.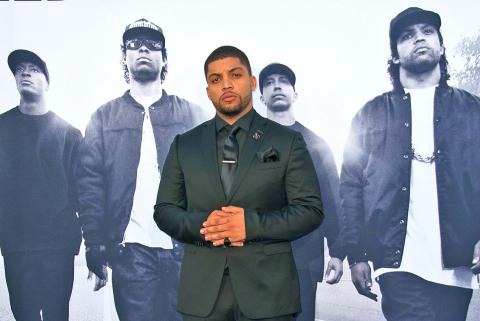 Rapper O'Shea Jackson Jr arrives for the premiere of Straight Outta Compton in Los Angeles on Monday last week.
Photo: AFP
Just as N.W.A's debut album stood out from the pack in 1988, when hair metal bands like Def Leppard and Guns N' Roses were dominating the airwaves, Straight Outta Compton stands far apart from the majority of movies to land at the multiplex this summer.
The only other film with a largely African American cast to hit theaters this summer was the independently made Dope. It is a long-term trend that has attracted increasing scrutiny. A study by the University of Southern California found that nearly three-quarters of all speaking or named characters in the top 100 highest-grossing movies last year were white.
So Straight Outta Compton — a fresh and brash alternative to the usual summer spectacles — arrived with a wave of enthusiasm behind it, rising to the level of must-see cultural flashpoint.
On Sunday, filmmaker Ava DuVernay, whose Oscar-nominated January release Selma struggled at the box office, despite rave reviews, tweeted a passionate response to Compton, saying it "captured the plight of the black artist."
"We rapped along, clapped, laughed, cried. For all that has happened," DuVernay said. "All the stifling of our voices as young black people in that place at that time while a war was going on against us."
The success of Straight Outta Compton could encourage studios to embrace more racially charged stories. Certainly, many will hope for such an effect, even if it stands against the prevailing risk-adverse nature of today's Hollywood.
Before Universal jumped in, Warner Bros passed on Straight Outta Compton in part because of the project's riskiness. Those concerns earlier appeared to be justified. Marion "Suge" Knight, who is portrayed in the film, is awaiting trial for allegedly running over two men in January after an altercation with Cle "Bone" Sloan, a technical adviser for the movie.
According to Universal, the film, which stars Corey Hawkins as Dr Dre, O'Shea Jackson Jr as his father, Ice Cube, and Jason Mitchell as Eazy-E, was 46 percent African American, 23 percent Caucasian and 21 percent Hispanic.
Comments will be moderated. Keep comments relevant to the article. Remarks containing abusive and obscene language, personal attacks of any kind or promotion will be removed and the user banned. Final decision will be at the discretion of the Taipei Times.