Tianjin storms threaten new blasts, contamination
WHEN IT RAINS, IT POURS: The rain may spread the hundreds of tonnes of hazardous chemicals at the site — including some that become flammable on contact with water
Thunderstorms yesterday complicated recovery efforts from last week's massive explosions at a warehouse in China's Tianjin port that killed at least 114 people, left 57 missing and exposed dangerous chemicals — including some that could become flammable on contact with water.
Experts have expressed concern that rain could spread some of the vast quantities of hazardous material at the site or set off chemical reactions sparking further explosions. Rain began falling mid-morning, but there was no immediate word of new blasts.
The storms began shortly after residents, firefighters, police, medical staff and officials held a moment of silence marking the sixth day since the disaster, the first observance in the 49-day traditional Chinese mourning cycle. Sirens wailed and car and boat horns blared while assembled groups bowed in respect for the dead.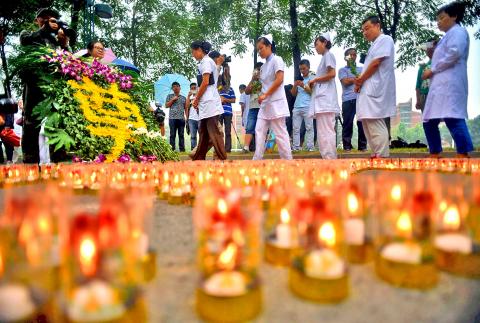 Medical workers, marking the seventh day since the Tianjin explosions, pay tribute to the people who died in a ceremony in Tianjin, China, yesterday.
Photo: Reuters
At the now-evacuated Seaport City housing complex, 33-year-old Fan Jie joined other residents in lighting candles for first-responders killed in the explosions.
"There were many firefighters who went into the blast and sacrificed themselves. So we're here today for them, to give thanks to them and grieve for them," Fan said.
As of yesterday, 50 firefighters were confirmed killed and another 52 were among the 57 missing, marking the disaster as the deadliest ever for Chinese first-responders. About 1,000 firefighters responded to the disaster.
The blasts originated at a warehouse for hazardous material, where 635 tonnes of sodium cyanide — a toxic chemical that can form combustible substances on contact with water — was being stored in amounts that violated safety rules. That has prompted contamination fears and a major cleanup of a 3km-radius, cordoned-off area in the port city southeast of Beijing.
Cyanide contamination was found at levels up to 28 times those considered safe at eight of 29 testing sites within the blast zone, Tianjin Environmental Bureau chief engineer Bao Jingling (包景嶺) told reporters.
No unsafe levels were found at 14 inspection sites outside the zone, he said.
"If the rain gets heavy, water will have to be drained. It is not good for water to remain in the craters," Bao told a news conference, referring to massive cavities left by the explosions.
Officials have said there have been no substantial leaks of the toxic sodium cyanide. They say they have sealed all waterways leading into the sea from the blast site and built retaining walls to prevent any runoff.
Sodium cyanide can form a flammable gas upon contact with water, and several hundred tonnes would be a clear violation of rules cited by state media that the warehouse could store no more than 10 tonnes at a time.
The Chinese Ministry of Industry and Information Technology has ordered authorities at all levels to check whether companies that produce and store hazardous materials comply with safety regulations, including if they are a safe distance from residential areas and do not exceed storage limits.
China's Cabinet, the Chinese State Council, said an investigation team has launched a probe into the explosion.
Media reports say 10 people have been taken into custody, including top officials of the warehouse's management company.
In unusually strong language, the Cabinet referred to the blasts as an "especially major fire and explosion incident."
Along with the cause, the probe is to identify those responsible and provide recommendations on how to deal with them.
Prosecutors previously have said they would investigate any dereliction of duty and abuse of power that may have contributed to the blasts.
Comments will be moderated. Keep comments relevant to the article. Remarks containing abusive and obscene language, personal attacks of any kind or promotion will be removed and the user banned. Final decision will be at the discretion of the Taipei Times.