Demonstrators protest across Brazil
REDUCED TURNOUT: The crowds were smaller than those for demonstrations in March and April, but the protests are likely to continue, which should worry the government
Nationwide street protests on Sunday against Brazilian President Dilma Rousseff kept the pressure on the government without dealing her administration a fatal blow.
More than half a million people, many wearing the yellow jersey of the national soccer team, took to the streets to denounce corruption and economic mismanagement amid calls for Rousseff's impeachment or resignation.
Protests took place in about 16 states, including in the Amazonian metropolis of Protesters chanted anti-government slogans and carried Brazilian flags, handmade signs and effigies of politicians that were the subject of their indignation.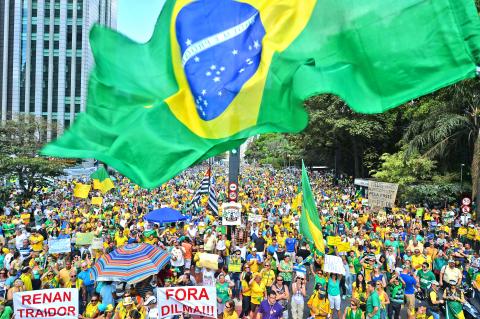 Demonstrators on Sunday rally on Paulista Avenue in Sao Paulo to protest against Brazilian President Dilma Rousseff and the ruling Workers' Party.
Photo: AFP
While the rallies drew fewer people than similar demonstrations in March, they were in line with protests in April and the message this time was more focused on Rousseff and her Workers' Party.
The turnout was neither weak enough to be dismissed nor strong enough to decisively demand action from lawmakers weighing the possibility of impeachment, according to University of Brasilia political science professor Joao Paulo Peixoto.
"The tendency of the protests is to lose some of their force, but they are still very important," Peixoto said by telephone. "I think they're going to continue, and that's a concern for the government."
Against daily reports of corruption and a sinking economy, only 8 percent of Brazilians said their president is doing a good job, according to a survey conducted on Aug. 4 and Aug. 5 by polling firm Datafolha. More than two-thirds of respondents said they support impeachment, the poll showed.
Prosecutors are looking into the alleged involvement of more than 30 sitting politicians in a corruption case involving the state-run oil company Petroleo Brasileiro SA. Rousseff is not under investigation.
Members of the government described Sunday's protests as "normal" for a democracy, said Brazilian Social Communication Minister Edinho Silva, who was among the Cabinet members that met with Rousseff on Sunday evening.
Gustavo Raulino, a 38-year-old engineer, said he was protesting for the first time because he has seen the political and economic crisis worsen in the past three months. His small engineering firm has laid off one-fourth of its employees because of plummeting demand, and he said he fears he may have to close the company.
"I'm outraged at Brazil's corruption in general, especially in the government," Raulino said, standing beside the National Museum in Brasilia. "I support impeachment because it's better to have short-term pain to clear out those responsible."
It is hard for the government's interaction with society to get much worse, according to Rafael Cortez, a political analyst at research company Tendencias. He said time will provide some relief for the government, and Rousseff, while weakened, should manage to hang on to power for the rest of her term.
"Today's protests aren't going to alter the political balance in congress, which is a positive result for the government," Cortez said in a telephone interview.
It is not just Rousseff's impeachment that's in the hands of Congress — she also needs its cooperation to pass austerity measures and avoid new bills that mandate additional government spending.
The Senate last week showed signs it would be more collaborative with her administration than the lower house, giving some relief to political tensions.
Sunday's protesters included Rousseff and her predecessor, Luiz Inacio Lula da Silva, in their complaints about corruption.
Sergio Moro, the federal prosecutor leading the investigation of graft at Petrobras, was held up as a hero by demonstrators.
"We're here to look for an improvement in government," said Monica Godinho, a 35-year-old biologist who went to the Copacabana beach protest in Rio de Janeiro with her family. "The Workers Party has been there for so many years and has had so many scandals."
Additional reporting by AP
Comments will be moderated. Keep comments relevant to the article. Remarks containing abusive and obscene language, personal attacks of any kind or promotion will be removed and the user banned. Final decision will be at the discretion of the Taipei Times.