Japanese utility says special measures at nuclear power facility not necessary
Japanese utility Kyushu Electric Power yesterday said that it was monitoring activity at a volcano near its Sendai nuclear plant, but did not need to take any special precautions after authorities warned of the risk of a larger-than-usual eruption.
The reactor is the first to be restarted under new safety standards put in place since the meltdowns at the Fukushima Dai-ichi nuclear power plant in 2011.
Japanese Prime Minister Shinzo Abe and much of Japanese industry want reactors to be switched on again to cut energy bills, but opinion polls show a majority of the public opposes the move after the nuclear crisis triggered by an earthquake and tsunami in March 2011.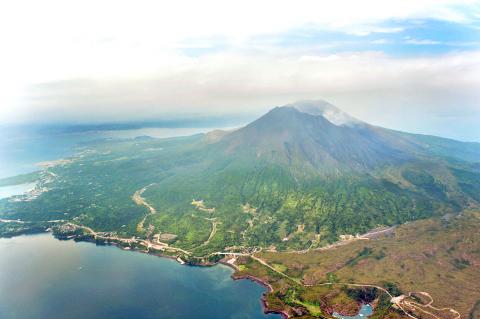 An aerial photograph shows smoke rising from Sakurajima, one of Japan's most active volcanoes, on Saturday.
Photo: Reuters
The possibility of a significant eruption of Sakurajima, about 50km from Sendai, is a reminder of the volatile geology of Japan, which has 110 active volcanoes.
"We are not currently taking any particular response," Kyushu Electric spokesman Tomomitsu Sakata said by telephone.
"There is no impact in particular to the operations" of the Sendai plant, Sakata said. "We will continue to pay close attention to information from the Japan Meteorological Agency."
The 890-megawatt facility had reached 50 percent of its output by Sunday and the operator expects full power to be achieved on Monday next week, Sakata said.
Critics of the nuclear industry say that new safety measures are insufficient, particularly for plants such as Sendai, which is located near five giant calderas, crater-like depressions formed by past eruptions, with the closest one about 40km away.
The precautions by the Japanese Nuclear Regulation Authority for volcanic eruptions were "wanting in a number of important respects" and did not meet international standards, said John Large, chief executive of Large & Associates, a nuclear engineering consultancy.
Large wrote a report this year on the Sendai plant's ability to withstand being hit by volcanic ash and has testified in court about the issue.
Sakurajima is one of Japan's most active volcanoes and erupts almost constantly. There was a risk of larger than usual eruption, an official at the Japan Meteorological Agency said on Saturday.
The agency raised the warning level on the peak, about 1,000km southwest of Tokyo, to an unprecedented four, for prepare to evacuate, from three.
Seventy-seven residents who live within a 3km radius of the craters have already evacuated following an advisory issued by the city of Kagoshima, which has a population of about 600,000, a city official said yesterday.
There have been no injuries or damage so far, he added.
Comments will be moderated. Keep comments relevant to the article. Remarks containing abusive and obscene language, personal attacks of any kind or promotion will be removed and the user banned. Final decision will be at the discretion of the Taipei Times.