Tianjin residents call for compensation
OFFICIAL RESPONSE: City officials have ordered checks of factories for any potential safety risks and Chinese Premier Li Keqiang visited people injured by the blast
About 100 people whose residences were damaged in the massive Tianjin blasts gathered yesterday for a protest to demand compensation from the government as the death toll from the disaster rose to 114 with 70 still missing.
The blasts on Wednesday last week originated at a warehouse for hazardous materials, where hundreds of tonnes of sodium cyanide — a toxic chemical that can form combustible substances on contact with water — were being stored in amounts that violated safety rules. That has prompted contamination fears and a major cleanup within a 3km-radius cordoned-off area in the Chinese port city southeast of Beijing.
Chinese work safety rules require such facilities to be at least 1km away from residences, public buildings and highways. However, online map searches show the Ruihai International Logistics warehouse was within 500m of both an expressway and a 100,000m2 apartment complex. Those apartments had walls singed and windows shattered, and all the residents have been evacuated.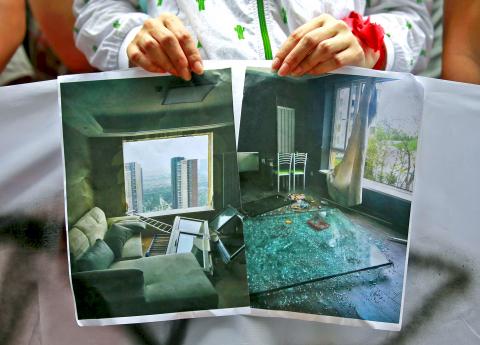 A resident evacuated from her home holds up pictures of the damage to her neighbors' houses at a rally demanding government compensation for explosions at a facility last week in Tianjin, China, yesterday.
Photo: Reuters
"We victims demand: Government, buy back our houses," a banner carried by the residents said at a protest outside the Tianjin hotel where officials have held daily news conferences about the disaster. "Kids are asking: How can we grow up healthy?" read another banner.
Tianjin officials have been hard-pressed to answer how the warehouse was allowed to operate in its location. Questions have also been raised about management of the warehouse, and the country's top prosecuting office on Sunday announced that it was setting up a team to investigate possible offenses related to the massive blasts, including dereliction of duty and abuse of power. Ruihai's general manager has been hospitalized under police watch.
Bian Jiang, a resident of one of the nearby housing complexes, said he was asleep when the first explosion struck on Wednesday last week shortly before midnight.
"Twenty seconds later I heard the second explosion and saw the rising mushroom cloud. Then, I was thrown out of bed by the force of the blast. I was wondering if we would able to get out alive," he said, adding that his home is now ruined. "All the windows are gone."
The blasts claimed the lives of at least 114 people, with 70 still missing, including 64 firefighters and six policemen, Tianjin government spokesman Gong Jiansheng (龔建生) told a news conference yesterday.
On Sunday, authorities confirmed there were "several hundred" tonnes of the toxic chemical sodium cyanide on the site at the time of the blasts, although they said there have not been any substantial leaks. Authorities also said they had sealed all waterways leading into the sea from the blast site.
Sodium cyanide is a toxic chemical that can form a flammable gas upon contact with water, and several hundred tonnes would be a clear violation of rules cited by state media that the warehouse could store no more than 10 tonnes at a time.
Tianjin officials have ordered a citywide check on any potential safety risks and violation of fire rules, mandating the suspension of operations for factories that cannot immediately comply with safety rules. Chinese Premier Li Keqiang (李克強) was in Tianjin on Sunday, visiting those injured and displaced by the disaster.
The death toll includes at least 21 firefighters — making the disaster the deadliest for Chinese firefighters in more than six decades — and their toll could go much higher, because 64 remain missing. About 1,000 firefighters responded to the disaster.
The public has raised concerns whether firefighters were put into harm's way in the initial response to the fire and whether hazardous materials — including compounds combustible on contact with water — were properly taken into account in the way the firefighters responded.
The massive explosions happened about 40 minutes after reports of a fire at the warehouse and after an initial wave of firefighters arrived and reportedly doused some of the area with water.
The Tianjin blasts are among the deadliest industrial accidents in China in recent years. In June 2013, a fire at a poultry plant in northeastern Jilin Province killed 121 people. In August last year, a dust explosion at a metal plant in eastern Jiangsu Province left 97 people dead.
Comments will be moderated. Keep comments relevant to the article. Remarks containing abusive and obscene language, personal attacks of any kind or promotion will be removed and the user banned. Final decision will be at the discretion of the Taipei Times.