US 'shocked' by claims of abuse by UN peacekeepers
The US on Friday said it was "profoundly shocked" by claims of abuse by UN peacekeepers in the Central African Republic, and called for perpetrators to be punished.
Washington also warned that such instances undermine the credibility of all UN peacekeeping missions and welcomed moves by UN Secretary-General Ban Ki-moon to deal with the matter.
"The United States is profoundly shocked and dismayed by allegations and incidents of serious misconduct by UN peacekeepers serving in the UN Multidimensional Stabilization Mission in the Central African Republic [MINUSCA]," US Department of State Deputy Spokesperson Mark Toner said on Friday.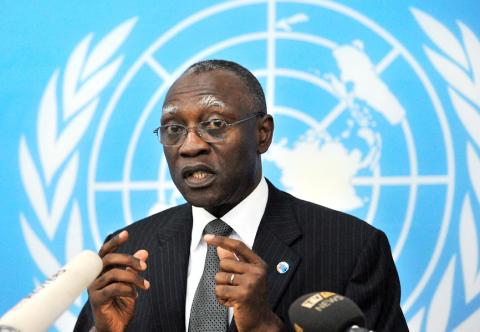 General Babacar Gaye, then-head of the UN Multidimensional Integrated Stabilization Mission in the Central African Republic, speaks in Bangui on Feb. 6 last year.
Photo: AFP
The MINUSCA force, which took over from an African Union mission nearly a year ago, has been plagued by a series of allegations involving its soldiers.
So far, there have been 57 claims of misconduct, 11 of which possibly involve child sex abuse.
The latest allegations involve a 12-year-old girl who was allegedly raped by a UN soldier during a search operation in the Muslim PK5 district of Bangui last week.
Another alleged incident involved the shooting death of a teenager and his father.
"These allegations raise serious concerns about the mission's discipline and command," Toner said. "They must be investigated immediately and thoroughly, with appropriate punishment and accountability for the perpetrators."
In response to the claims, Ban on Wednesday fired General Babacar Gaye, the UN mission chief in the Central African Republic, which is struggling to recover from sectarian violence after a 2013 coup.
On Thursday, Ban outlined a series of steps to the UN Security Council to ratchet up pressure on countries whose nationals are accused of sexual abuse while serving in peacekeeping missions.
Ban told the council he plans to name-and-shame countries whose troops face allegations of misconduct in his annual report and asked the council to follow up on all reported cases.
Washington welcomed Ban's efforts and said it remained convinced of MINUSCA's importance and the "central utility of UN peacekeeping in advancing peace and reconciliation in regions afflicted with violence."
Toner also warned that "instances of abuse such as these and others in recent years, however, threaten to undermine the credibility of this crucial tool for conflict resolution."
"We will continue to push the UN for urgent action to improve vetting, implement measures to protect civilians from abuse and exploitation, and investigate any allegations and take and appropriate action," he said.
Comments will be moderated. Keep comments relevant to the article. Remarks containing abusive and obscene language, personal attacks of any kind or promotion will be removed and the user banned. Final decision will be at the discretion of the Taipei Times.