UN turns up pressure on peacekeeping sex abuse
UN Secretary-General Ban Ki-moon on Thursday moved to ratchet up pressure on countries whose nationals are accused of sexual abuse while serving in UN peacekeeping missions.
Ban outlined a series of steps to the UN Security Council a day after firing the head of the UN force in the Central African Republic over a string of scandalous allegations of child sexual abuse by the peacekeepers.
Under UN rules, it is up to the troop-contributing country to investigate and prosecute soldiers accused of misconduct while serving under the UN flag.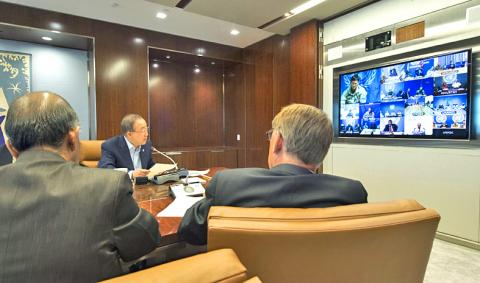 UN Secretary-General Ban Ki-moon, center, speaks with peacekeeping officials during a video conference at UN headquarters in New York on Thursday.
Photo: AP
However, Ban said that all too often, investigations are not done quickly enough, and in the most frustrating cases, they are not done at all.
"I am frustrated by what appear to be far too lenient sanctions for such grave acts affecting men, women and all too often children," Ban told a two-hour closed-door meeting of the council.
"A failure to pursue criminal accountability for sexual crimes is tantamount to impunity," he said, according to remarks later released by his office.
Ban told the council he plans to name and shame countries whose troops face allegations of misconduct in his annual report and asked the council to follow up on all reported cases.
He also informed council members that Parfait Onanga-Anyanga of Gabon would travel to Bangui next week as the new head of mission.
Onanga-Anyanga, who recently served as UN envoy in Burundi, replaces Babacar Gaye of Senegal who tendered his resignation at Ban's request on Tuesday.
US Ambassador to the UN Samantha Power, whose country is by far the largest financial contributor to UN peacekeeper, said "the system as it currently stands has a lot of gaps in it."
Power said UN member-states "have to be on board and enthusiastic about getting to the bottom of allegations" tarnishing UN missions.
Ban earlier spoke by videoconference to the envoys and force commanders and told them they "were directly accountable for maintaining conduct and discipline within their mission," UN spokesman Stephane Dujarric said.
Ban in June appointed a review panel led by former Canadian Supreme Court justice Marie Deschamps to look into how the UN handled allegations that French and African troops sexually abused children in the Central African Republic beginning in late 2013.
Comments will be moderated. Keep comments relevant to the article. Remarks containing abusive and obscene language, personal attacks of any kind or promotion will be removed and the user banned. Final decision will be at the discretion of the Taipei Times.