Teachers freed after abuse convictions tossed
A Canadian teacher and an Indonesian teaching assistant serving 10 years in an Indonesian prison for child sexual offenses were released yesterday after a court overturned their convictions.
Neil Bantleman, 45, and Ferdinant Tjiong were greeted by tearful family and cheers from friends and dozens of teachers from their former school as they walked out of Cipinang prison in eastern Jakarta.
Bantleman and Tjiong were convicted in April by the South Jakarta District Court of violating Indonesia's child protection law. They maintained their innocence and appealed to the Jakarta High Court. he two men were supported by fellow teachers and the principal at the Jakarta International School, now called the Jakarta Intercultural School.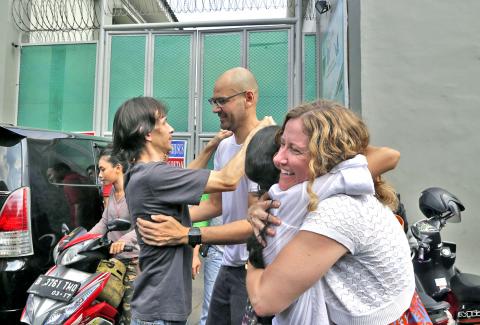 Canadian Neil Bantleman, center, yesterday hugs Indonesian Ferdinant Tjiong, left, as his wife, Tracy Bantleman, hugs Tjiong's wife, Sisca, in front the gate of Cipinang prison shortly after the two men were released from the prison in Jakarta, Indonesia.
Photo: EPA
"I want to say thank you to you all for believing in us," said Bantleman, who repeatedly hugged and kissed his wife. "We're happy that the truth has finally come out."
The release of the men came after the Jakarta High Court overturned their convictions of sexually abusing students who attended the school's kindergarten and who are now six and seven years old. The school is attended by children of foreign diplomats, expatriates and Indonesia's elite. It has 2,400 students aged three to 18 from about 60 countries.
Hotman Paris Hutapea, an Indonesian lawyer representing Bantleman and Tjiong, had said the sexual abuse claims were motivated by money. The principal and a number of other teachers have alleged the same.
The mother of one of the children had sued the school for alleged negligence and was seeking US$125 million in compensation.
"The truth is finally revealed and justice has been done," Hutapea said yesterday.
A spokesman for the Jakarta prosecutor's office said the High Court's decision would be appealed to the Supreme Court.
The arrests of Bantleman and Tjiong in July last year followed allegations from parents of a six-year-old boy at the school that he had been sodomized.
Four male janitors were sentenced to eight years in prison in that case and a woman received a seven year prison sentence as an accomplice. Police said a sixth suspect killed himself in custody by drinking bathroom cleaner.
On Monday, the same district court that convicted Bantleman and Tjiong threw out the US$125 million civil case. It said it was not proven that any of the alleged abuses had taken place, adding that new evidence from medical reports from three hospitals in Jakarta and Singapore showed no major injuries or abnormalities in the three children.
Comments will be moderated. Keep comments relevant to the article. Remarks containing abusive and obscene language, personal attacks of any kind or promotion will be removed and the user banned. Final decision will be at the discretion of the Taipei Times.