Panel publishes 40 NZ flag designs
The independent panel tasked with deciding a potential new flag for New Zealand has published a list of 40 possible designs.
Nearly 10,300 were submitted by members of the public to a New Zealand government Web site for consideration by the state-appointed panel of 16 people.
The process attracted international attention for its more off-the-wall entries, including memorably a kiwi with lasers for eyes, a crude line drawing of a man on a bicycle, a QR code and the 10-year-old Pepe the Frog meme.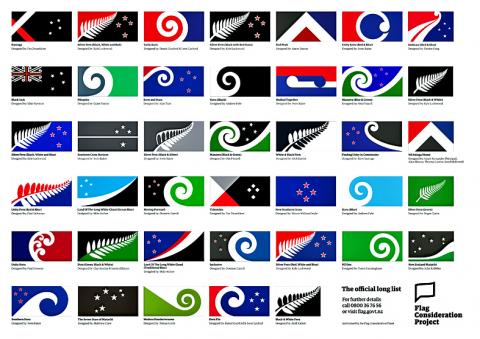 A handout picture released by the government on Monday shows 40 new New Zealand flag designs, an official long list, after reviewing 10,292 entries.
Photo: EPA
Unsurprisingly, but nonetheless somewhat disappointingly, the panel went for a more refined approach in the list of designs it published on Monday, with variations on the silver fern, the Southern Cross constellation and the koru (unfurling fern frond) featuring prominently.
The silver fern on black designed by Kyle Lockwood — which was the preference of New Zealand Prime Minister John Key, though it was likened to the Islamic State's flag by an Australian commentator — is on the list.
In an open letter jointly its members, the panel said its decision was guided by the input of "thousands of Kiwis," who "across a range of communities told us when they shared what is special to them about New Zealand."
"A potential new flag should unmistakably be from New Zealand and celebrate us as a progressive, inclusive nation that is connected to its environment, and has a sense of its past and a vision for its future," the letter said.
Cultural, vexillology, and art and design experts were asked to review the designs, and due diligence of all 40 will be carried out, "including robust intellectual property checks."
Two designs by Pax Zwanikken, a New Zealander based in Sydney, made the list of the "20 or so" he submitted.
"My personal favorites were more simple than the ones they selected, but I'm not surprised that these two were their choice," he said. "They are potentially less divisive than some of my other concepts."
Zwanikken said he felt that there had been a backlash against the push to change the flag — instigated by Key — in part because of the cost and duration of the process, which includes a two-step postal vote and is estimated to cost just under NZ$26 million (US$17 million).
"I think there is a strong sentiment that this process isn't something the public really asked for at this time, but rather something pushed upon them, but that said, it's happening now so I think we should turn our energy towards making sure that this money isn't wasted and that we take the opportunity to create something good out of it," he said.
The panel is now faced with the task of whittling down the list of 40 to four designs, which will be put to a public vote in a binding referendum in November or December.
A second referendum, to be held in March next year, will be a run-off between the current flag and the preferred alternative design.
New Zealand's current flag, a pairing of the Union Flag with the Southern Cross constellation that closely resembles Australia's, was formally adopted in 1902.
Comments will be moderated. Keep comments relevant to the article. Remarks containing abusive and obscene language, personal attacks of any kind or promotion will be removed and the user banned. Final decision will be at the discretion of the Taipei Times.