Jon Stewart signs off with wit, sincerity
After 16 years of taking satirical aim at the hypocrisy of politics and the fatuousness of news media, Jon Stewart said goodbye to The Daily Show on Thursday evening with a farewell broadcast that mixed wry parting shots with earnest displays of emotion and with a passionate speech urging his audience not to accept falsehoods and misinformation in their lives.
Stewart, 52, who presided over the Comedy Central news parody show since 1999, concluded his final episode with a spirited sermon against what he euphemistically described as "social-contract fertilizer."
Blatant mendacity has become ubiquitous and pernicious, Stewart said.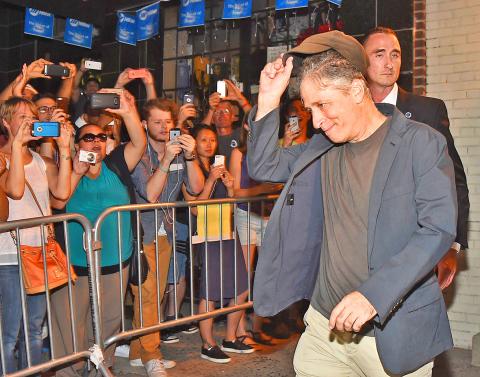 Jon Stewart, second right, exits a television studio after his final recording of The Daily Show With Jon Stewart in New York on Thursday.
Photo: AFP
"Whenever something has been titled 'Freedom Family Fairness Health America,' take a good long sniff," he said.
The only way to combat relentless intrusions of dishonest people is through vigilance, Stewart said.
"Their work is easily detected, and looking for it is kind of a pleasant way to pass the time," he said. "So if you smell something, say something."
Then, for good measure, there was a performance by Bruce Springsteen and the E Street Band.
The broadcast began with what appeared to be a traditional opening act in which Stewart poked fun at a current event — in this case, the Republican presidential debates in Cleveland. However, this was simply a setup for the many on-air correspondents and contributors who have passed through The Daily Show during Stewart's time on the show to pay their final tributes.
Among the celebrated alumni who gave their testimonials, Steve Carell, who went on to become the star of NBC's The Office and films such as Foxcatcher, joked that he had never really left The Daily Show.
"Becoming an international superstar is just something I did while waiting for my next assignment," Carell said.
Larry Wilmore, who now hosts his own Comedy Central late-night series, The Nightly Show, groused that his program had been pre-empted this evening.
"Black shows matter, Jon," he said to Stewart.
There were further cameos from John Oliver, Kristen Schaal and Samantha Bee, as well as Stewart's Daily Show successor, Trevor Noah.
In a taped montage, several of Stewart's past targets of ridicule, including New Jersey Governor Chris Christie, former US secretary of state Hillary Rodham Clinton, Bill O'Reilly and US Secretary of State John Kerry, fired back good-natured ripostes at him.
"So long, jackass," John McCain declared at the end of the segment.
There was also a visit from Stephen Colbert, the former Daily Show correspondent and star of Comedy Central's Colbert Report, who is to succeed David Letterman as the host of CBS' Late Show.
"You were infuriatingly good at your job," Colbert told Stewart. "All of us who were lucky enough to work with you for 16 years are better at our jobs because we got to watch you do yours."
Comments will be moderated. Keep comments relevant to the article. Remarks containing abusive and obscene language, personal attacks of any kind or promotion will be removed and the user banned. Final decision will be at the discretion of the Taipei Times.