China topples cross from church after month-long protest
Chinese authorities yesterday removed a cross from a church after Christian protesters ended a month-long sit-in on the building's roof in a bid to protect the cross from what they said was its unfair removal, witnesses said.
China officially guarantees freedom of religion, though authorities are sometimes suspicious of religious groups.
Christians in Zhejiang Province, which has a growing Christian population, say authorities have been taking down crosses on churches since last year, creating tension between officials and congregations.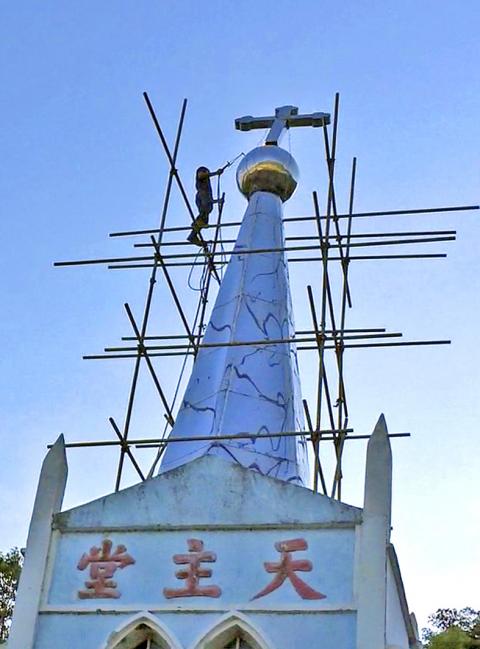 A cross atop a Catholic church topples after being cut down by a government worker with a cutting torch in Lower Dafei Village in Zhengjiang Province's Yongjia County, China, on July 30.
Photo: AP
Video footage captured by Zhang Zhaoxia, a member of the congregation at Ya Village Church in Huzhou, showed authorities using a crane to remove the cross from the church's steeple. However, the footage could not be verified.
Up to 22 members of the church staged a rooftop protest for a month to guard the cross, but government officials told their relatives on Thursday the occupation had to end that day.
Protesters said relatives dragged them away.
Pan Yingjue said officials had told church workers the cross would not be removed, but to her dismay, she saw it being taken down yesterday.
"If the premises of your home are casually dismantled and moved, how would you feel?" Pan said. "The cross was up there all this while and did not affect them at all. Why did they have to touch it?" she asked.
Congregation members said they were not told why the cross was taken down.
A Huzhou government official, who declined to be identified as he is not authorized to speak to the foreign media, said the cross was being moved to a wall of the church.
"The police did not dismantle the cross, but are moving it from the roof to the exterior wall," the official said.
He declined to answer other questions, saying: "The religious issue in China is a highly political one."
The state-run Global Times newspaper said last month that authorities in Zhejiang had denied demolishing crosses, but had said some crosses had been "relocated" out of safety concerns.
The newspaper said on Wednesday crosses on churches in Zhejiang violated building regulations.
Another protester, Gu Yajian, said authorities should be chasing criminals, not taking down crosses.
"The government had no right to do this today. They have broken our hearts," Gu said.
Comments will be moderated. Keep comments relevant to the article. Remarks containing abusive and obscene language, personal attacks of any kind or promotion will be removed and the user banned. Final decision will be at the discretion of the Taipei Times.